Here at UnlockBase we like to show you a comparison between phones of the same brand, and this time, it's LG's turn. On the spotlight is LG K30 (X410TK), a new phone from the Seoul-based brand exclusively offered via T- Mobile.
We've had quite the feedback, so today, we are taking a look at how this specific LG phone compares to its brother phones which were also released this year.
You might be interested: Activate permanent Unlock on T-Mobile LG K30 using the "Device Unlock" App
LG K30 vs LG Stylo 4 vs LG Q7+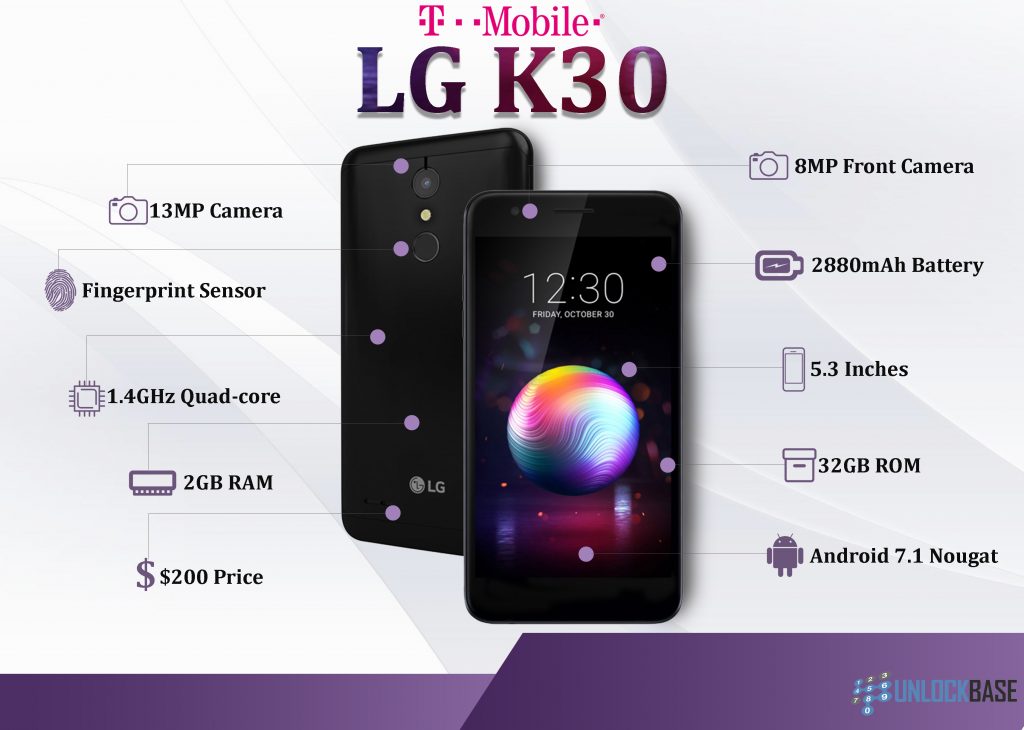 To differentiate, the LG Stylo 4's unique selling point is the Stylus, the LG Q7+ its performance and protection, and the LG K30's its price point and simplicity.
It is one of the most affordable LG phone this year, yet it still has premium features we would not usually see on a phone within its price range.
Do note that the above-mentioned phones come from different families of devices under LG. This means that they were created to be an improved version of their predecessors, and for the LG K30, it is the LG K20.
For the Stylo 4, it's the Stylo 3, and so forth. That being said, each family of devices was created to have its own unique selling points, so our considerations for this article lies solely on the premise of practicality these phones serve and the selling point to which they are offered.
In case you are torn which among these T-Mobile budget phones you should be getting, we made a table to ease the decision-making process for you.
| | | | |
| --- | --- | --- | --- |
| | LG K30 | LG STYLO 4 | LG Q7+ |
| Price | $200 | $239 | $329 |
| Screen size | 5.3in | 6.2 in | 5.5in |
| Battery | 2880mAh | 3300mAh | 3000mAh |
| ROM/RAM | 32GB/2GB | 32GB/2GB | 64GB/4GB |
| Processor | 1.4GHz Quad-core | 1.8 GHz octa-core | 1.5GHz Octa-core |
| Operating System | Android 7.1 Nougat | Android 8.1 Oreo | Android 8.0 Oreo |
| Front Camera | 5MP | 5MP | 5MP |
| Main Camera | 13MP | 13MP | 16MP |
| Pros | Fast Processor for the price, Fingerprint Sensor | Big Battery, Good Price Point, Fast Processor, Fingerprint Sensor | Big Battery, Fast Processor, IP68 Water and Dust Resistance, Premium LG Audio and speakers, Fingerprint Sensor |
| Cons | No other features to offer. | Not much improvement since LG Stylo 3 | Camera can be improved. |
The table above shows the major features that you will actually be paying for the device you are going to get. It is clear that LG K30 is pretty much a decent device for the price it is being sold for, however, we don't think it is worth the compromise.
If you are going to pay another $39 bucks, you can get a much bigger phone with a much bigger battery size, the LG Stylo 4. Also, the LG Stylo 4 has an additional feature, the Stylus pen, which is pretty much comparable to that of the Samsung Galaxy Note 8.
You might me interested: How to unlock LG K30 With T-Mobile "Device Unlock" App
On the other hand, both the LG Stylo 4 and LG K30 has the same amount of ROM/RAM power, which essentially means they are comparably as fast as the other, but the LG Stylo 4 has a much more powerful 1.8 GHz octa-core processor. It means that multitasking on this phone is fast and is more power efficient compared to the LG K30, but if you're doing just the typical type of tasks, this difference in speed will probably go unnoticed.
There's no question as to why the LG Q7+ seem to have more value because of its higher price. But for a mid range phone with that price tag, it is no doubt worth every penny. It is one of the few mid range phones that has IP68 water and dust resistance, packed with premium LG sound features comparable to the brand's flagship.
LG K30 vs Other Budget Phones
Although LG K30 seems like an unwise choice for a budget phone compared to other LG budget phones, you might find it a better option compared to other budget phones from other brands in the same price range.
T-Mobile also offers Samsung Galaxy J7 Star, and it currently retails at $225 when paid in full, the phone has a slightly bigger screen and slightly better camera than that of the LG K30, but it doesn't have a fingerprint sensor at the back.
| | | |
| --- | --- | --- |
| | Samsung J7 Star | Moto E5 Plus |
| Price | $250 | $225 |
| Screen size | 5.5in | 6.0in |
| Battery | 3300mAh | 5000mAh |
| ROM/RAM | 32GB/2GB | 32GB/3GB |
| Processor | 1.6GHz Octa-core | 1.4GHz Octa-core |
| Operating System | Android 8.0 (Oreo) | Android 8.0 (Oreo) |
| Front Camera | 13MP | 8MP |
| Main Camera | 13MP | 12MP |
| Pros | Good Camera, Fast Processor | Big battery, Fast Processor, Big Screen |
| Cons | No Fingerprint Processor | Low Resolution Display |
The Un-Carrier also offer Moto E5 Plus, which retails at a higher price but comes with a fingerprint sensor and a much superior processor. It has a gigantic 5000mAh battery but it did have a few features compromised.
You might be interested: How to troubleshoot the "Device Unlock" App on your LG K30
The phone seemed to be very heavy and it has a low-resolution display, the cameras weren't great, but they are not that bad either, but we are certain you'll like the LG K30's camera better.
Final Verdict
For the price, we think that the LG K30 is worth the penny, but if you are willing to spend a little more, you can actually get a better phone with a much faster processor and a better camera.
But if you're a solid LG K-series fan, this phone surely is an up-game compared to the LG K20 in so many ways. We sure wished it had something more to offer especially that there are a lot of competing budget phones in the market, but it seems that LG K30 has given way for other LG phones to shine.
Do you own an LG K30 from T-Mobile? Care to share your experience with us?