Sony Xperia XZ2 Premium is the "plus" version of the Sony XZ2 that was released on the first quarter of this year. This "premium" flagship phone obviously has upgraded features compared to the XZ2, starting off with a bigger screen size display and a bigger RAM capacity.
It ticks off pretty much all the basic features that we expect, and of course, the electronics giant kept all the good stuff they had with the XZ2. Inside and out, the Xperia XZ2 Premium is an A+ flagship that deserves a second look.
Related: How to sim unlock your Sony Xperia phone for use with another carrier.
Sony Xperia XZ2: Upgraded Mobile Entertainment
It is obvious that Sony's targets are people who are enslaved by entertainment. With its 5.8-inch screen display, you will enjoy watching YouTube videos and Netflix, playing games, and taking photos. It's 4K HDR display is 100% spot-on even when you're recording movies.
If you like it loud, this one's going to make it to the top. This phone doesn't have a 3.5mm headphone jack, but Sony made up for the lack by giving you LDAC, DSEE HX, and 2 loud front-facing stereo speakers that are truly loud.
According to Sony, these are the loudest Xperia speakers ever. The audio experience makes the viewing experience more surreal.
And if that's not enough, this flagship phone also has a Dynamic Vibration System, that "analyses audio data and lets you feel the action with your hand." If that's not immersive, we don't know what is.
Related: Want to unlock your Sony Xperia? Click here!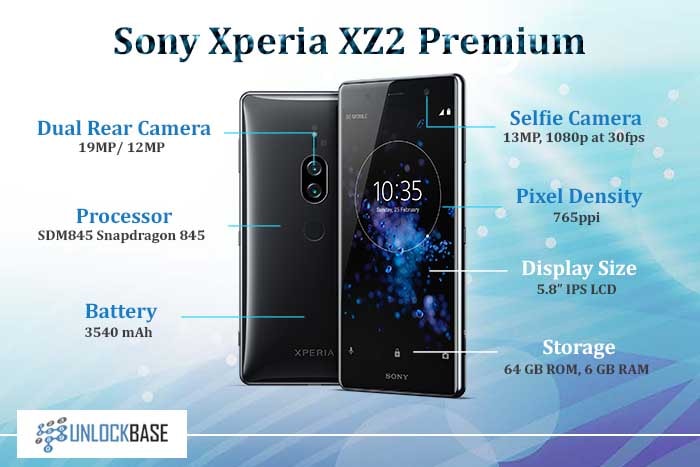 Closer Look: Sony Xperia XZ2 Premium Specs and Features
The screen of XZ2 premium is still IPS LED, which is definitely energy saving compared to Samsung's OLED Screens.
It's also Corning Gorilla Glass 5, which means it's built tough- a standard for most flagships. XZ2 Premium is available in two color variants, chrome black, and chrome silver. It stands 6.2 inches, a wee bit taller than the XZ2, and has a 5.8 inches of screen display.
It is not bezel-less like most 2018 phones are, but again, the amazing video and image quality on this phone makes up for that minor lack.
RAM and Memory. The most notable upgrade in the specs that we've seen is its huge 6GB RAM, which makes this phone more power efficient. Moreover, it comes with a 64GB internal memory, that is expandable with an external card up to 400GB.
Camera Experience. The camera features of this phone are definitely way better than its predecessor. It has a 13MP front camera and a 19MP and 12MP dual rear camera. The selfie and dual rear cameras have low light sensors and can capture crisp photos in any light.
The rear cameras have an AUBE fusion sensor at the back that fuses both the data from the 19MP RGB color and 12MP monochrome (black and white) camera. This helps you capture better video than what your eye sees real time in ultra-low light settings.
This phone is absolutely a god-sent device for someone who is addicted to photography and video recording.
Battery life and efficiency. The battery capacity of this phone has an 11% increase to that of the XZ2. And for sure, you can play all day or watch movies loud without having to worry about recharging or losing power in between. Its enormous 3540mAh battery guarantees that.
And its powerful and fast Octa-code Snapdragon 845 Qualcomm processor increases your phone's power efficiency, making it last long even when you're multitasking or using different apps at the same time.
Build Quality and Security. In addition to having a strong screen, this phone is also IP68 water and dust-resistant. You can take this phone with you wherever your adventure might be.
As for biometrics, this phone is still using fingerprint security and not the facial ID.
Despite being heavyweight and not-so ergonomic in size, the Sony Xperia XZ2 Premium truly embodies what a premium flagship phone is like.
Xperia XZ2 Premium vs. Xperia XZ2 vs Xperia XA2 Plus
We've compared the specs and features of the latest Xperia phones out in the market. If you're a Sony fan, we hope this will help you decide which one's are worth the compromise.
Xperia XZ2 Premium

Xperia XZ2

Xperia XA2 Plus

Display size

5.8 inches

5.7 inches

6.0 inches

Resolution

2160 x 3840 pixels

1080 x 2160 pixels

1080 x 2160 pixels

Pixel density

760 ppi

424 ppi

402 ppi

Camera

Dual camera

Single Camera

Main camera

19 mp

19 mp

23 mp

Front camera

13 mp

5 mp

8 mp

RAM

6 GB

4 GB

6 GB

Internal Memory

64 GB

64 GB

64 GB

Maximum Storage Capacity

49 GB

48 GB

50 GB

External Memory

Up to 400 GB

Up to 400 GB

Up to 400 GB

Weight

8.32 oz (236 g)

6.98 oz (198 g)

7.23 oz (205 g)

Technology

IPS LED

IPS LED

IPS LED

Materials

Main body: Glass; Accents: Aluminum

M

ain body: Glass; Accents: Aluminum

M

ain body: Glass; Accents: Aluminum
Related: Here's why you should unlock your phone with UnlockBase!
The upgrades available in Xperia XZ2 Premium is noticeable. Consider yourself lucky if you haven't purchased any of the Xperia phones out yet. Camera-wise, the XZ2 sucked while the XZ2 Premium excelled.
If you have $1000 to burn for a flagship phone of this caliber, you'll definitely not regret getting the Sony Xperia XZ2 Premium.