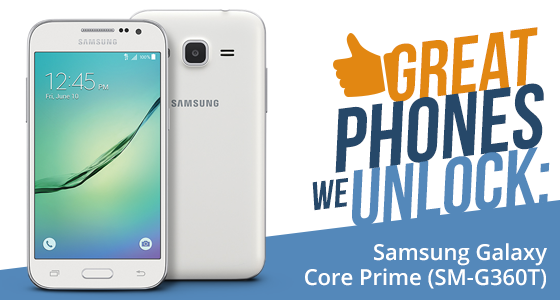 If you insist on Samsung quality but you don't want to pay Samsung's high-end phone prices, the entry level Galaxy Core Prime could be just the phone you're looking for. It's an all-plastic phone that manages to look and perform dependably above its weight. Its slim line good looks are inspired by some of Samsung's bigger, more powerful phones, so while it is a budget model, it doesn't perform like a budget phone.
The build quality is good, with smooth curves and a brushed metallic bezel and the battery is removable so you can add up to 128GB of storage via the microSD card slot that sits on top of the single micro SIM slot.
The phone runs on a 1.2GHz quad-core processor – a SnapDragon 410, with Adreno 306 graphics, 1GB of RAM and 8GB of storage (5.3GB is usable). In general use the phone performs at a good rate but for some heavier apps there can be slight delays when launched. At 4.5" inches, the WVGA screen is also smaller than some of the currently popular 5.5" phablet style phones, but it certainly makes up for lack of size with ease of portability as it could comfortably fit into a shirt pocket, so it's perfect to carry around for summer months wearing just shirtsleeves.
The Samsung Galaxy Core Prime has 4G LTE data speeds so you can stream high-quality videos, video chat and share photos with friends. It runs on the Android 5.1 Lollipop operating system with the TouchWiz interface to make navigating simple.
As far as picture power is concerned, the phone has a front facing 2MP camera for easy selfies and a higher quality 5MP camera on the back with Auto Focus and a rear LED flash.
Battery power is boosted when it's in Ultra Power Saving Mode; the battery continues to power the phone even when it's critically low. It works by turning most of your screens to black and white and shuts off nonessential apps, so your smartphone still works when you need it.
T-Mobile USA was selling the Galaxy Core Prime for cash for $139.99 or just $5.84 per month with no money down.
Unlock your Samsung Galaxy Core Prime (SM-G360T) with UnlockBase
You may want the phone, but not necessarily the service provider, but with UnlockBase, that's not a problem. UnlockBase is the leading online remote unlock site, with the largest database of phones and service providers around the globe. You can unlock your Galaxy Core Prime quickly, easily and cost efficiently using the Mobile Device Unlock App, the Android official unlock for T-Mobile USA: https://www.unlockbase.com/phone-unlocking-service/tmobile-device-unlock-app-official-unlock/
Device Unlock is an Android app that allows you to request and apply a mobile device unlock directly from the device. This allows you to automatically apply Mobile Device Unlock to the device without using a manual code. Please note that when your phone is locked with "Mobile Device Unlock" it's totally useless to order an unlock code. Just ensure your phone is clean, and not reported as lost or stolen.