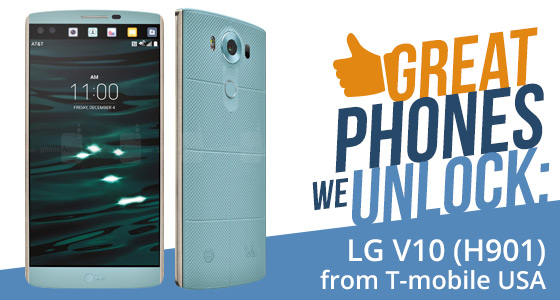 If you're on the lookout for a large phone, a phone large enough to comfortably watch movies, TV shows and your favorite YouTube videos, then the new 5.7 inch LG V10 could be the phone you need.
Introduced at the beginning of October 2015, the LG V10 is the latest flagship phone from LG. Perhaps the key attribute of this phone is the fact it boasts an always on secondary 2.1-inch display above its main 5.7-inch quad HD screen to keep you abreast of information such as the date, time, weather, and battery life as well as app shortcuts and playback controls. This changes when you have the main display on, with the secondary panel giving you quick-access to apps, music controls, favorite contacts and notifications.
16 megapixel rear and two front selfie cameras
Like the LG G4, the V10 features a hexa-core Snapdragon 808 processor, with 4GB (1GB more than the LG G4) of RAM, 64GB of storage, a 16-megapixel rear camera, and not one but two 5-megapixel front cameras for wide-angle selfies. The phone runs on Android 5.1, and on T-Mobile, the V10 includes support for band 12 LTE connectivity. The battery is a 3,000 mAh cell, said to be pretty thirsty for regular charging.
Expert movie making
The V10's strongest suite however, despite the two selfie cameras, is actually for video making on the go. The phone has a number of settings you can play with to fine tune your videos including the shutter speed, white balance, focus, frame-rate and a 21:9 aspect ratio which means you can shoot footage and watch it back on your widescreen TV in perfect Cinemascope quality with no distortion. 4K recording is also supported and there's both optical and electronic image stabilization thanks to Steady Record, to ensure your footage doesn't become a hand-held jerky nightmare. Also new is a 15 second Auto Edit which creates highlights of what you have just shot with none of the blurriness or shakes. If you are familiar with LG G4, you'll be familiar with the rest of the controls on the camera on the V10 as it is based on the LG G4 which has been hailed as having one of the best Android phone cameras on the market.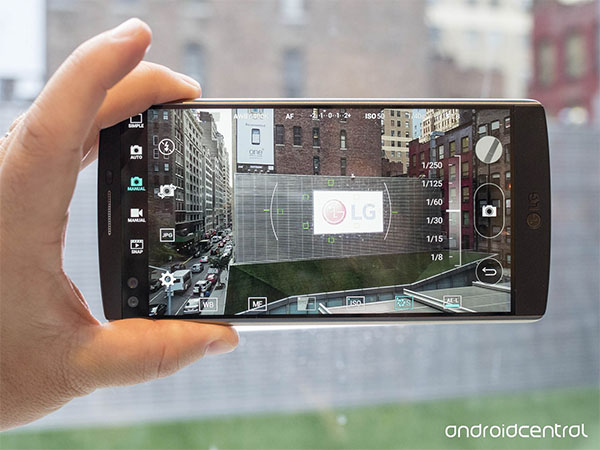 While the phone is available in the States and key markets in Asia, it is not yet available in Europe. Why? We don't know.
The LG V10 T-Mobile deal
A 24 month contract on the LG V10 from T-Mobile will mean you can walk out the door with it for $0 down. Monthly repayments are $25.00. If you go the JUMP! On Demand route, again, it's nothing down, but 18 payments of $25.00. If you want to own the phone outright the cost is $599.99
T-Mobile currently has a promo that pays out a $100 prepaid card when you buy the LG V10 and LG G Pad F 8.0 together when you buy one device on an Equipment Installment Plan, then buy the second on EIP within 30 days. Up till November 15 early bird T-Mobile customers were receiving a free 200GB microSD card, an extra 3000mAh battery, and a battery-charging cradle, but whether this deal will be repeated is unlikely.
About T-Mobile USA
With a workforce of 45,000, T-Mobile USA is a national provider of wireless voice, messaging, and data services capable of reaching over 293 million Americans where they live, work, and play. Around the country coverage can be quickly checked online by punching in your zip code. T-Mobile claims to have America's fastest LTE network, and to be America's fastest improving network having more than doubled their LTE coverage within 2 years, and by the end of 2015, they state they will have increased their reach to more than 300 million people across the country. The service provider's Extended Range LTE is claimed to reach 2 times farther and works 4 times better in buildings.
Unlock your LG V10 (H901) with UnlockBase
Although it's only been out for little over a month, of course UnlockBase already unlocks this phone for you. For this we use the Mobile Device Unlock App for Android specific to T-Mobile and the cost is $44.90. Delivery time is between 1 to 2 working days.
UnlockBase is the most experienced remote online unlock service on the web with over 5 million phones unlocked worldwide and counting. We won't be beaten on price, if you find a genuinely cheaper deal to unlock this phone we will either match or beat the price you have been offered.
To Unlock your LG V10 (H901) from T-Mobile USA, please follow this Link: https://www.unlockbase.com/unlock-phone/lg/v10/