Is It A Worthy Upgrade?
It has been a year since the release of the iPhone 12 and it came with not only one, but three other models in the same year shortly after its release. Although the iPhone 12 is not the best phone compared to specs, design, and features in the series, it has garnered the most sales.
iPhone 12 is the number 1 best-selling phone not only in North America but also across the globe. It was followed by iPhone 12 Pro Max and iPhone 12 Pro, which placed in the second and third spot respectively.
It's not rare for iPhones to take the top sales yearly, but if you're planning to upgrade to the iPhone 12, we unlocked the features below.
iPhone 12 Top-level Overview
Pros
Available in 6 beautiful, trendy colors
Magsafe compatible
Long battery life
Cons
Significantly more expensive compared to its direct competitors
Small base storage, only 64GB
60 Hz Display refresh rate not up to date with latest flagship phones
Cameras still need improvement
Design and Build Quality
What you'll like:
The beautiful Pantone colors of the iPhone 12 is what makes them an absolute eye candy. You can choose from 6 gorgeous colors: white, blue, purple, black, red, and green.
One of the things that make the iPhone 12 a gorgeous phone is the flat edges- you'll remember this with older models such as the iPhone 5s, which makes the phone really easy to grip. Moreover, Apple says they have Ceramic Shield on the 12 series, which means these phones are made to have some sort of 'shatter protection' in case you drop them- good thing to have especially if you're a butterfinger. Downside- it might make it more prone to scratches, but you can always add a screen protector.
It is a little bit thinner and lighter than its predecessors, but it still feels premium to hold thanks to its aluminum sides.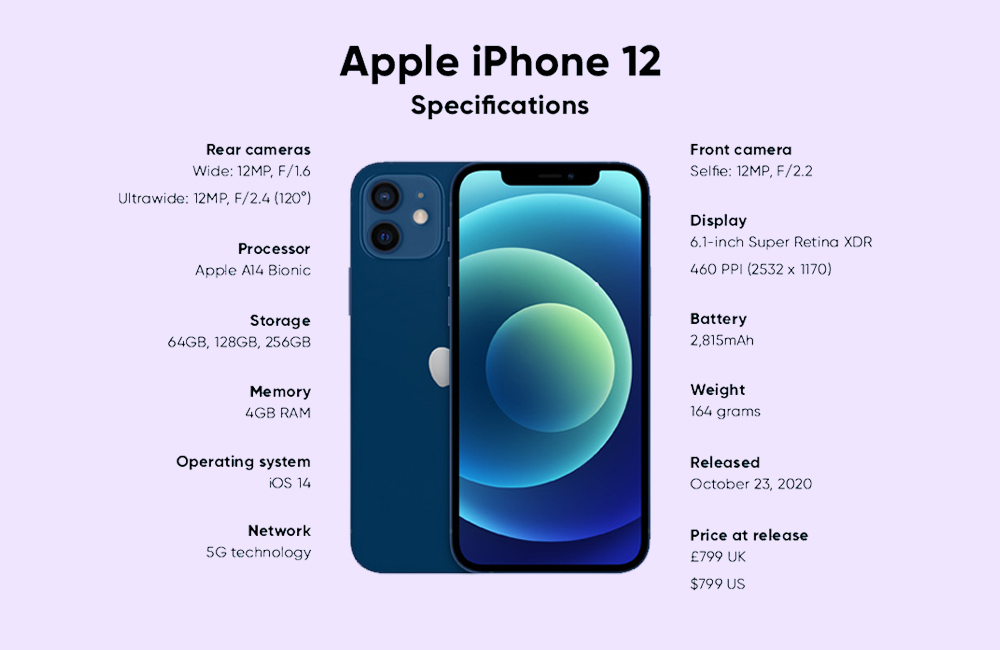 What you won't like:
If you're an Android phone user switching for the first time to an iPhone, you'd probably get disappointed with the amount of money you will spend on it.
Out of the box, the iPhone 12 comes with zero accessories to go with it except for a single USB C cable, not even a wall charger. Their reason? Everyone already has one and that's why you only get the cable.
That sounds like a good reason, but it also significantly cuts the costs of each phone. And if you're a first-time user as we said, you'll have to buy a compatible wall charger, which could cost you an extra twenty bucks.
The lack of chargers is a real bummer because the old wall chargers are only 5 watts based on the abilities of older phone models, which is too slow for the newer iPhone models. So in the end, you'll still end up buying yourself a new iPhone charger.
Recently, Samsung made the same move with the Samsung Galaxy S21. They didn't include a compatible wall charger in the accessories as well. This means if you want to take advantage of their fast-charging features, you'll be forced to spend more.
On the other hand, the 60Hz refresh rate of the iPhone 12 is significantly much lower than that of the Galaxy S21 which has 120Hz refresh rate. This means that when you scroll or play games on the iPhone 12, it is not as clear and as smooth as the S21.
If you're a long-time Android or Samsung phone user, you'll notice a significant difference when it comes to the display. A lot of Android phones have had either a 90 Hz or 120Hz refresh rate even before 2020.

| | | | |
| --- | --- | --- | --- |
| Tech Features | iPhone 11 | iPhone 12 | iPhone 12 Pro |
| Price | $599.99 | $829.99 | $999.99 |
| Screen size | 6.1" Liquid Retina HD | 6.1″ Super Retina XDR display | 6.1″ Super Retina XDR display |
| RAM | 4 GB | 4GB | 6GB |
| Storage Options | 64/128GB | 64/128/256GB | 128/256/512GB |
| Processor & OS | A13 Bionic Chip | A14 Bionic chip, iOS 14 | A14 Bionic chip, iOS 14 |
| Durability | IP68 Water Resistance | IP68 Water Resistance | IP68 Water Resistance |
| Battery size | 10 hours talk time | 11 hours talk time | 11 hours talk time |
| Camera | Dual 12MP Ultra Wide & Wide Cameras w/ Night Mode | Night Mode, Deep Fusion, Advanced Dual-Camera System | 4x Optical Zoom Range, Night Mode, Deep Fusion |
These features are based on the T-Mobile website, but we know it's better to have unlocked iPhones or unlock your iPhone because you will not need to rely on a carrier, and travel with your phone worry-free!
What's in the box: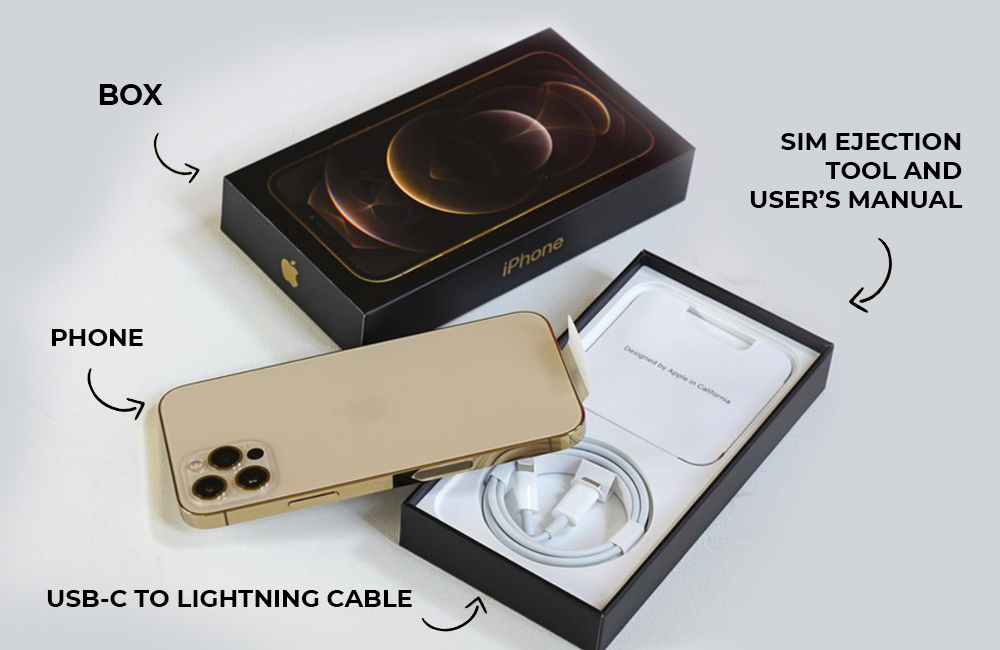 MagSafe: Charging in a snap!
If you're not new to the Apple ecosystem, you probably have heard of or used MagSafe before. But for the sake of the others who didn't, we will explain how it works here.
Easily put, MagSafe is a magnetically attached puck charger that was previously used for Macs. MagSafe offers 15 Watts wireless charging and is designed to safely and quickly wirelessly charge your device, according to the Apple website.
The iPhone 12 series is the first set of iPhones to have fast-charging MagSafe compatibility. It snaps onto the back of the iPhone 12 like a magnet on a refrigerator. You may still be able to use MagSafe on older models using Qi wireless charging technology, but they're a lot slower due to a significant difference in wattages.
On the other hand, MagSafe charging is still significantly lower than a USB C fast charging based on tests done by Macrumors.com.
Cameras.
The iPhone 12 cameras don't have a lot of drastic changes, advantages, or new features over the previous iPhones. If you want to see the real camera upgrade, you'll have to check out iPhone 12 Pro as it is the real deal when it comes to iPhone cameras nowadays.
The iPhone 12 has two cameras in the back, the same as the camera placement back in 2019, but they can shoot videos in Dolby HDR, one of the best video-shooting standards. It also has a better, much larger ƒ/1.6 aperture which makes photos taken in low-light crisper and better than the other iPhones.
Good aesthetics but lacks functionality
You're probably wanting the iPhone 12 because of the amazing Pinterest boards you see about its app customization, but there's still a serious flaw that you might want to consider: the floating apps on the screen are not interactive.
What do we mean by this?
Yes, you're able to customize the widgets that you want to prioritize or see first, however, you still have to open the app in order for you to be able to use them. A few examples for this would be, (1) you need to start/stop music directly from the Spotify widget, (2) you can't scroll on your calendar widget, etc.
Is the iPhone 12 worth buying?
The iPhone 12, being the latest series, definitely has a lot of newer, cooler, better features compared to the iPhone 11. Compared to the other models that came out in this series, the iPhone 12 is not so bad.
The iPhone 12 and the 12 Pro have the same size, although the Pro has some more serious camera upgrades. The Pro has a third camera in the back, with a price difference of $100+ it is worth considering.