Unlock your iPhone in seconds with our 2-step unlock process! 
If your iPhone is ineligible for our regular iPhone Factory Unlock or if you want a quick fix that can unlock your iPhone real time, the iPhone Unlock Sim Card is the best alternative that we offer. Through the UnlockBase iPhone Unlock Sim card, you no longer have to ask your carrier to unlock your phone or go through the complicated process of iPhone Factory Unlock. Our sim card works on ALL iPhones, notwithstanding the original carrier and the model of your iPhone.
Note: There are two different kinds of sim cards that support each set of iPhones.
One for the new generation iPhone Xs: Xs Max and Xr, and one for older iPhone models.
How To Use The iPhone Unlock Sim Card: 2 Steps
1. Stack the UnlockBase iPhone Unlock sim card to your new carrier's sim card.
Attach the UnlockBase iPhone unlock sim card to the sim card you want to use.  For example, if you want to use a Rogers sim card to an iPhone that's locked to AT&T, you don't need to keep the AT&T sim card anymore.  Make sure you align and stack the iPhone Unlock sim card and the Rogers sim card firmly on the sim tray before you insert it back to your iPhone.
2. Wait for your iPhone to recognize the unlock process.
After inserting the sim card, wait 30 seconds to 1 minute. You will be prompted with "Sim Card Not Supported" [which means your iPhone is still locked] or another similar error message but you just need to exit out of it.  It will take a little time for your iPhone to recognize or process the unlock, but within the specified waiting time frame you will see signal bars come in and your iPhone is successfully unlocked.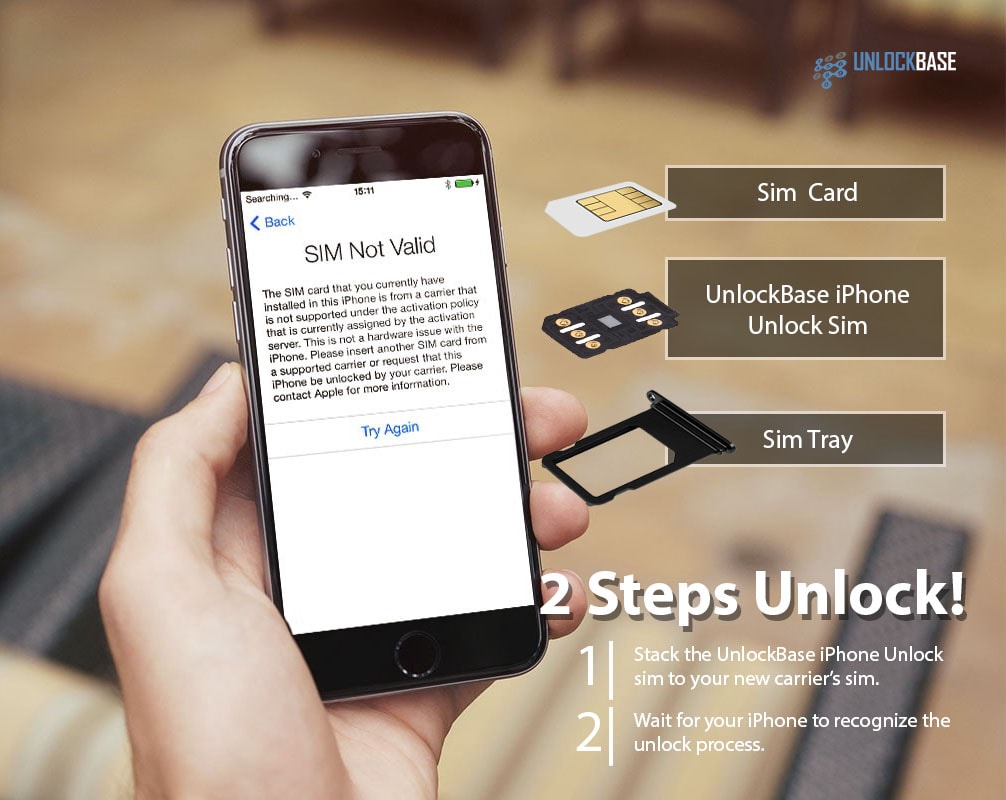 3. If the phone still shows "SIM Not Valid" change the ICCID of your device
To to that, simply go to Emergency Call mode and input the code *5005*7672*88#  if nothing happens, try instead one of these codes: *5005*7672*00# or *5005*7672*0# or *5005*7672*5858# or *5005*7672*99#.

Then you will be able to edit the ICCID of the iPhone Unlock Sim,
Please use this ICCID: 89014104270225985430 and click send,
Restart your phone and that's it!
iPhone Unlock Sim Card: Things You Need To Know
1. The UnlockBase iPhone Unlock Sim is not a permanent Unlock solution
However, it comes handy when you're looking for a convenient and fast way to unlock your iPhone.
2. The UnlockBase iPhone Unlock Sim has to stay inside your iPhone to ensure it stays unlocked.
In the event that you use another carrier because you're traveling in multiple countries or just want to try another carrier, you may have to repeat the unlocking process mentioned above.
You have to keep the iPhone Unlock Sim card stacked with the carrier sim card for it to stay unlocked. 
3. The UnlockBase iPhone Unlock Sim works with any iPhones.
It works with any iPhone regardless of your carrier and model. It's very convenient to use for when you're traveling to another country and you want to save on roaming fees, or you simply just want to get out of your current carrier. 
4. The UnlockBase iPhone Unlock Sim will not jailbreak your iPhone.
Our sim card does not require you to install any software that can potentially harm your iPhone's operating system. It will save you from all the technicalities that usually comes with the Factory unlock process. It's safe, easy, and convenient to use.
UnlockBase is a leader in the iPhone unlocking industry and we are a trusted source of breakthrough unlocking technology for the last decade. We've already unlocked over 9 million phones (and counting!) and we have a global network of suppliers across the globe. Order it today and receive it in your doorsteps in no time!
We have 24/7 support available in various channels always willing to help you with your concerns.
Got questions? Drop them in the comments section and we'd be glad to answer them!