This is a review on the performance, specs, and features of the Samsung Galaxy A6 from Metro by T-Mobile. Factory unlocked Samsung Galaxy A6 retail price is $359.99.  But if you want to get it on subsidy, you can also get it locked from any carrier and have our factory unlock service for Samsung Galaxy A6, so you can still enjoy the flexibility of an unlocked phone. 
Unlocking Samsung Galaxy A6: Quick Overview
Battery size: 3000mAh                                             ROM/RAM: 32GB/3GB
Screen Size: 5.6" AMOLED  720 x 1480                Cameras: 16MP front/16MP back
What to like. This mid-range Samsung has Fingerprint Scan and Facial Recognition for security. It also runs with a 3GB RAM so it's fast and can handle moderate to heavy apps. It has a nice aluminum casing and semi-matte finish that gives it a premium look.
Finally, it packs a 3000mAh battery that's enough to last you more than a day of regular usage.  
What not to like. For the same price, the LG Q7 Plus has arguably a better screen resolution than the Galaxy A6. The main camera doesn't have PDAF which may result in slightly slower autofocus compared to phones within the same price range.  
The processor could also be improved, but compared to other Samsung phones, you will most likely not notice that it's inferior when it comes to speed and performance.
More importantly, for a much lesser price, the LG Q7 Plus is IP68 Water and Dust Resistant, while the Samsung Galaxy A6 is not.
Both are offered through Metro by T-Mobile.
Got a phone from Metro that you want to carrier unlock? We can help you permanently unlock it with the MetroPCS Device Unlock App!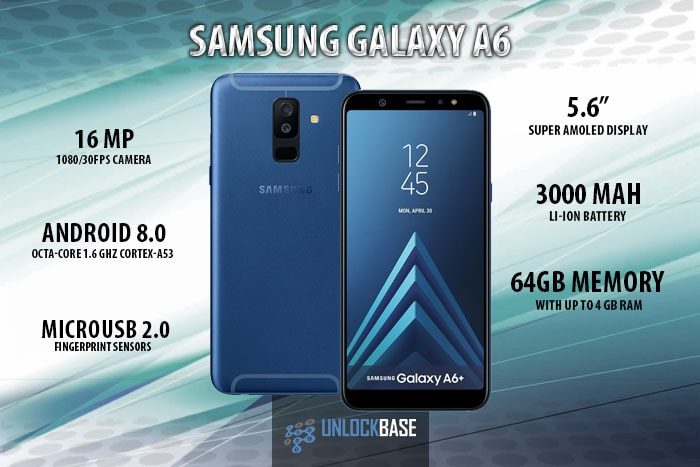 Samsung Galaxy A6 Build And Design
Metallic Build. The Samsung Galaxy A6 is beautiful, it doesn't exactly look like the S9 when it comes to design, but it has an aluminum casing that gives it a luxurious look. Since it's an all-metal phone, Samsung created a small non-metallic loop at the upper and lower back to put the antennas neatly.
Bezel-less display. It's not the first Samsung budget/mid-range phone to have a bezel-less display and Home button, but it's so refreshing to see a less bulky, more modern design on a Samsung slate phone.
Non-ergonomic Design. The fingerprint scanner is situated on the same box as the camera, which makes it a little bit awkward to reach. It may not as bad as it seems since the phone is relatively small (only 5.6 inches screen size) and fits the average hand size.
Samsung Galaxy A6: Hardware, Specs, and Features
No USB-C. No fast-charging. Since 2018, it's almost as if the USB-C has become an industry standard for every smartphone manufacturer, and so it's a bummer that the Galaxy A6 didn't come with a USB-C port for fast charging. Instead, it is using a Micro USB, which is somewhat backward for a newly-released, mid-range priced phone.
On the brighter side, you can still have your phone back from 0% up to 100% within 2 hours and 15 minutes of charging.
Low light, high-resolution camera. Budget Samsung phones most often have low megapixels cameras, but they're also known for having good sensors. And the Galaxy A6's cameras surely don't disappoint.
Other phones may have higher megapixels but they are not good at taking pictures in low light. The Samsung Galaxy A6, on the other hand, has the best of both worlds. It can capture great images even in at night or in low light settings.
Overall Impression on MetroPCS Samsung Galaxy A6
So is the Samsung Galaxy A6 a good phone? Well, it can be for an avid Samsung user, but compared to other brands, it's clearly not the best bang for the buck. There are other brands of mid-range phones out there that offer more for the same price, like the LG Q7 Plus.
Moreover, the Samsung Galaxy A6 does not have anything particularly stand out in the mid-range phone arena. Looking at the trend and changes between many budgets and mid-range phones over the years, it seems that Samsung is not interested in winning the budget and mid-range phone market.
In conclusion, the Samsung Galaxy A6 does not particularly stand out from its competition but it shows signs of huge improvements from its predecessors. And with the home button gone, we're confident that Samsung is actively making changes, slowly stamping its brand name in the mid-range phone market to dominate it.
It is not the budget version of Samsung Galaxy S9 when it comes to the features, but with its much 'modern' bezel-less design, it certainly has the premium Samsung-branded vibe that you would otherwise only get with the brand's flagship devices.
Hey, we unlock phones from Metro! If you want to enjoy the freedom and flexibility of an unlocked phone, we're here to help! Go to MetroPCS Mobile Device Unlock App for more information.