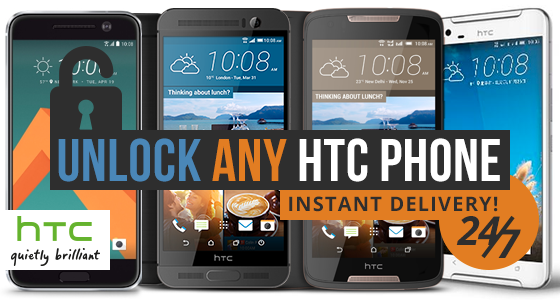 We have updated the HTC unlocking code Database with 5,479,470 new IMEI entries, last update was in October 2016. With this update, we are now able to deliver instantly the Unlock Code of no less than 228,424,845 HTC Cell Phones. Almost 99% of latest HTC phone models are available in our Database, including the last models from the brand:
– HTC U Ultra, U Play,
– HTC Desire 10 Pro, Lifestyle,
– HTC One A9s,
– HTC Desire 627, 628, 630,
– HTC Desire 728 Dual SIM
– HTC Desire 820G+ Dual SIM, 820s Dual SIM,
– HTC Desire 825, 828 Dual SIM, 830,
– HTC One E9s Dual SIM
– HTC One M9+, One M9+ Supreme Camera, One M9s,
– HTC One ME and One X9.
Don't want to waste time? You can check for free whether the Unlock Code of your HTC phone is available or not in our Database by using our Free Widget to get real time availability! Just have your unique IMEI ready and visit the widget page to do this: http://www.unlockbase.com/widget/htc.php
Order the Unlock Code for your HTC Cell Phone with UnlockBase and enjoy Instant Delivery 24/7 !