Feb. 6
2017
6 Great Ways To Improve Cell Phone Reception
Tips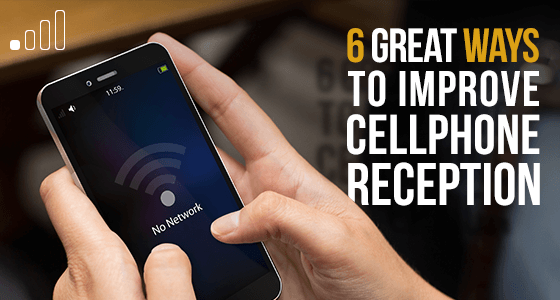 Think about it. Would you rather go back to the good old days when you couldn't carry a phone around with you? It had certain advantages. People accepted the fact that there would be whole hours of the day when you simply could not be contacted. Nowadays we get jumpy if we can't get hold of someone inside of an hour, often half an hour.
Being unable to get hold of people in an emergency was a frustration, but it's a frustration that has now been largely overcome. But now there's a new source of frustration and exasperation. It's called poor cell phone reception. It affects everything that governs modern life; phone calls, instant messaging, text messaging, email, internet, apps, social media, and plenty of other real-time services.
We've become so accustomed to an always on, always working world, that our levels of patience have greatly decreased. When there is no cellphone reception it's almost enough to throw your phone out of the window.
Our service providers ensure we pay handsomely for the privilege of such convenience, so it's only fair we should expect reliable 3G & 4G LTE signals, but do we always get them? No. However, there are a few tips and tricks you can use to help boost your cell phone strength.
1) Let nothing come between you and your cell tower
Your cellphone works best when there's an uninterrupted signal between you and the cell tower. Your phone should also work well when it's right in front of the router, but if you're in another room there are objects and obstructions in between. The trick is to reduce interference between the cell phone and the cell tower. To do this you can go outside or stand by an open window, away from thick walls and insulated interiors.
If a good signal really matters to you, look out for tall trees, hills, mountains, metal structures, and high buildings before you settle on a place to live, all these will contribute towards a poor signal. You can also check with your service provider what the signal is like in any particular area. And the higher your apartment, the better as high rise apartments get the best signal.
Then there's the weather. Unfortunately, we can't control it, but it may also affect service. Rain, snow and thunderstorms can all reduce reception, but sometimes, just shifting your position a few feet can reduce the problem.
2) Know where your nearest cell tower is located
Finding out where your nearest cell phone tower is located can really help in your battle for better cellphone signal. If you want to know where your nearest cell tower is, go online, enter your zip code or city and state and you can quickly find out. You can discover cell tower locations by all the major carriers including Verizon, AT&T, Sprint, & T-Mobile. The reviews from other users will give you an honest appraisal as to cell signal strength.
– Check websites:
OpenSignal ranks the top carriers and their signal with a cell phone coverage map and then further compares your area cell phone signal nationwide and even worldwide. You can also refine the type of cell phone signal by 2G, 3G, and 4G.
– Download an App:
OpenSignal: For iPhone | For Android
Akvelon's Signal Finder: For iPhone | For Android
RootMetrics' Cell Phone Coverage Map: For iPhone | For Android
– Use your phone:
Your smartphone is a great way to find signal strength. Cell phone signals are measured in dB (decibels). Similar to radio waves, such as AM/FM. All cellular devices operate within this standard:-50 dB to -120 dB signal level.
-50 dB is considered full strength (full bars). -120 dB is considered signal Death Valley.
So, while the bars on your phone are supposed to indicate signal strength, you can't truly rely on it. Why? Because there's no industry standard and practice to label dB values in relation to the number of bars. For example, 1 bar on Verizon is 2 bars on AT&T and 3 bars on Sprint, even though it could be the exact same signal and performing at the same speeds.
You can check the Db readings like this:
For iPhone Users:
Go into Phone Mode
Dial and Call *3001#12345#*
You know enter in "Field Test Mode"
Drag down your notifications bar and you will see your dB reading in the left-hand corner.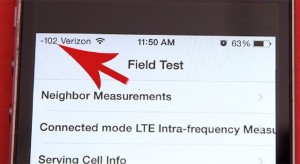 For Android Users:
Go to Settings > General > About Phone
Then "Network" (or  "Status")
You should see your dB Value
Now try walking around the house to find out where you receive the best signal. The number closest to -50 dB is where you get your best signal.
3) A full battery means a better signal
Connecting to a cell tower takes a constant supply of power, so if you're low on battery, your phone might not be able to identify the best signal. Options like Bluetooth and NFC should be switched off when not in use. Close unnecessary or unused apps working in the background. Turn off push notifications, and always update to the latest firmware.
4) Use your Wi-Fi Network
If you keep your WiFi signal on your phone switched on when you are outside, remember to switch it off when you get home and use Wi-Fi Calling, using your broadband landline WiFi to make
calls and connect to the internet. T-Mobile and Sprint offer full WiFi calling support, while AT&T and Verizon only support WiFi calling on select phones. If you already have landline internet, connecting your cell phone should help boost reception service.
5) Cell phone signal boosters
These are powerful FCC-certified devices that harvest your 3G & 4G signals and amplify them by up to 32 times and then rebroadcast it to your home or car.
Cell phone boosters are one-time purchases with no monthly fees. They come with 2-year manufacturer's warranty and lifetime technical support. They are fully legal and approved by all US and Canadian carriers, and they work for any cellular device on any US or Canadian network.
6) Unlock your phone and find another carrier
If you've done everything you can and you're still not happy, you can complain to your service provider. It's their duty to ensure as much as possible that you get good reception. Competition for your business is keen. Sprint offer a 50% cut on bills if customers switched carriers, while T-Mobile will pay for any early termination and old payment plan fees. Good carrier deals are out there waiting to be discovered.
But if you decide you want to change your service provider, UnlockBase is here to help. We unlock the widest range of phones from the longest list of service providers, and we can free your phone, quickly, conveniently and economically.