Jan. 31
2017
5 ways to avoid Digital Eye Strain
Tips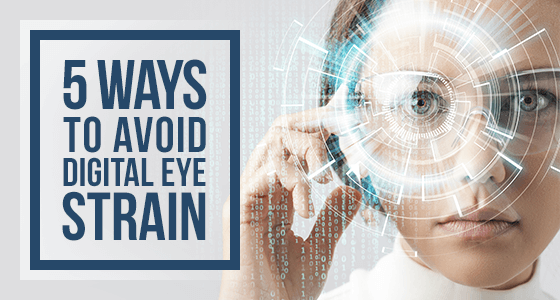 We are all guilty these days of spending far too much time in front of one digital screen or another. The smartphone in particular has become a constant habit for millions. One staggering statistic is this: Fully 90% of 18 to 29 year-olds sleep with their phone on their bed and consult it sporadically throughout the night. Staring at the bright light of the phone in the pitch dark is a perfect recipe for developing eye strain and a number of longer term eye problems.
You know if you are not happy with a mobile phone service provider you can easily contact UnlockBase to unlock your phone and free yourself up to find a better deal within minutes. Unfortunately, it's not so easy for your vision. We are all given just one set of eyes, and like it or not, it's a lifetime contract.
In the digital era, not only young adults, but also children and even retirees are experiencing symptoms such as eye strain, headaches, dry eyes, blurred vision, neck, back and shoulder pain.
With so many of us using mobile phones by day and night and then computers throughout the day at work, digital eye strain has become a major job-related problem Studies show that eye strain and other visual symptoms now occur in 50 to 90% of computer workers.
Digital eye strain, which can produce blood shot, tired and dry eyes, does not only affect vision. Physical fatigue, decreased productivity and an increased numbers of work errors are also common.
These 5 easy steps are designed to help you reduce your risk of mobile phone and computer eye strain and give your eyes the rest they so badly need.
1. Take an annual eye exam
Routine eye exams are important to prevent or treat digital vision problems. These should be taken yearly. Tell your eye doctor how often you use a phone and or computer at work and at home. You should also measure how far your eyes are from your screen when you sit looking at your screen. Bring this measurement to your exam so your eye doctor can test your eyes at that specific working distance.
2. Get the lighting right
Eye strain often is caused by excessively bright light either from outdoor sunlight coming in through a window or from harsh interior lighting. It can strain your eyes more to look at you phone outside than it is with lighting that is half as bright as that of your device. You should close drapes, shades or blinds and use fewer light bulbs and fluorescent tubes.
3. Reduce glare
If you wear glasses, opt for lenses with anti-reflective (AR) coating. AR coating reduces glare by minimizing the amount of light reflecting off the front and back surfaces of your eyeglass lenses.
You can also go to Settings on your mobile phone to adjust the brightness of the display. As a test, look at the white background of this Web page. If it looks like a light source, it's too bright. If it seems dull and gray, it may be too dark.
4. Give your eyes a workout
Eyes need exercise just like every other part of the body. Look away from your screen every 20 minutes and gaze at a distant object (at least 20 feet away) for at least 20 seconds. It's called the 20-20-20 rule. It also helps to take regular walks outdoors and looking at greenery and hills in the distance to provide a different field of vision for your eyes. Looking into the distance relaxes the focusing muscle inside the eye to reduce fatigue.
Look far away at an object for 10-15 seconds, then gaze at something up close for 10-15 seconds. Then look back at the distant object. Repeat 10 times. Take frequent breaks during your computer work day.
Many workers take only two 15-minute breaks from their computer throughout their work day. Studies show discomfort and eye strain were significantly reduced when computer workers took four additional five-minute "mini-breaks" throughout the working day.
5. Take frequent breaks
Finally, do not be glued to your seat all day gazing at a screen. Get up and walk around regularly to give your eyes and your mind something else to focus on.