Feb. 27
2015
10 Most Frequently Asked Questions Answered Pertaining the FCC Guidelines on Mobile Device Unlocking
U.S.A Networks, UnlockBase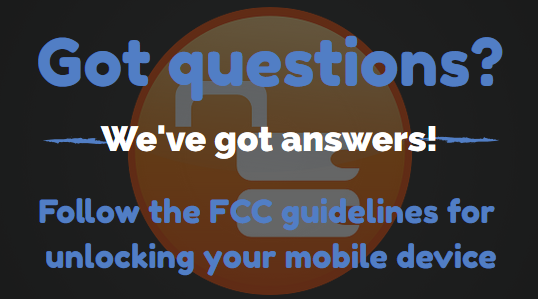 Here's a quick look at 10 common questions and answers relating to the FCC and its unlocking guidelines.
1) Is the FCC okay with consumers unlocking their cell phones?
Yes.  There was a ban on unlocking phones, but it has been lifted.
2) What do the FCC guidelines mandate U.S. wireless carriers to do?
The guidelines instruct that five of the nation's biggest US wireless carriers must inform their customers of the dates and stipulations related to when their phones can be unlocked.
3) Does the FCC implement a fee when a phone is unlocked?
No.  The FCC mandates that carriers not charge an unlock fee when a consumer has met all 'unlocking' requirements.  The providers themselves, however, may charge a fee if the consumer has not met the requirements, such as an Early Termination Fee.
4) Does the FCC decide when phones can be unlocked?
The FCC says that phones can be unlocked when the contract with the carrier has been fulfilled.  If the contract has not been fulfilled and the carrier charges an Early Termination Fee, this fee must first be paid before the phone can be unlocked.
5) What does the FCC say about unlocking prepaid phones?
All prepaid phones can be unlocked, but there may be delayed unlocking dates.  For example, some carriers will mandate that you cannot unlock a prepaid phone until after it has been activated for at least 60 days.  All carriers must allow prepaid phones to be unlocked at least one year after initial activation.
6) Does the FCC unlock all phones once the contract has ended?
No. The FCC itself does not unlock phones, however, some carriers automatically unlock them after a contract is up.
7) What does the FCC say about unlocking phones for military members?
There are exceptions in which the FCC mandates that military members who are deployed internationally will receive the right to have their phones unlocked before a contract has been fulfilled, and most times, the associated accounts must be in good standing.
8) If I owe money on my phone but not the service itself, can I get my phone unlocked?
If you purchased your phone through a network carrier and your contract has ended but you still owe money on the phone, you will most likely be required to pay off the balance on your phone before you can unlock it.
9) Can a lost or stolen phone be unlocked?
Yes, but not if it is reported lost or stolen before it gets unlocked.
10) Will an unlocked phone work on any carrier?
No. The technology on your phone must be compatible with the technology being used by the network carrier. GSM Cell Phone will only work on a GSM Carrier and will not work on CDMA Network Provider, and CDMA Cell Phone will not work on GSM Carrier but only CDMA Service Provider.
If you would like more information on unlocking your phone, contact UnlockBase today.