Alcatel 3T 8 is TCL's newest budget tablet, it's 8.24 inches tall and can be bought outright for $150 through T-Mobile. It has built-in features that make it great for the whole family's entertainment, especially the kids.
It has CloserTV app, Eye Care Mode (blue light reduction/eye protection), and built-in parental control called Kids Mode. The Kids Mode feature has a parental control panel that allows you to limit the usage time and choose only the apps your children can use.
The Eye Care Mode is exclusive to Alcatel and it's especially helpful in relieving visual fatigue coming from the blue light due to long hours of screen time. It offers optimized brightness and tonality both in daylight and at night.
The best thing about this tablet is that it supports T-Mobile 600mHz network, which means it can get better reception even when you're indoors or in an enclosed area. Now you can enjoy fast 4G LTE speeds that reach even when you're inside your home!
Unlock your Alcatel phone with us! Click here. 
Alcatel 3T Specs and Features
Alcatel 3T 8 comes with the latest Android operating system, Android 8.1.0 Oreo. It has a vibrant 8-inches display, super-fast 4G LTE capability and 5 MP front and rear cameras.
It has 2GB of RAM and 16GB of ROM, expandable up to 128GB microSD card and runs on a 1.5GHz Quad-Core processor. With just 2GB of RAM, you cannot expect this tablet to multi-task and run several apps at the same time in the background without experiencing lags. Due to the limited RAM, use of heavy gaming apps and social media apps may not be as seamless as compared to that of using your mid-range smartphones.
Quick tip: the best way to optimize the speed of your tablet or smartphone is to close all the apps running on the background. With the android Oreo operating system, you can do this by simply tapping on the burger (three horizontal lines) icon located at either the bottom right or left portion of the display screen.
By tapping on the burger button, you will see all the apps that are running on the background and you can close all the remaining apps you do not wish to use. Doing this will optimize your device's speed again and will help you avoid unnecessary lag.
Want to know how to use the T-Mobile Mobile Device Unlock app? Here's a quick how-to guide!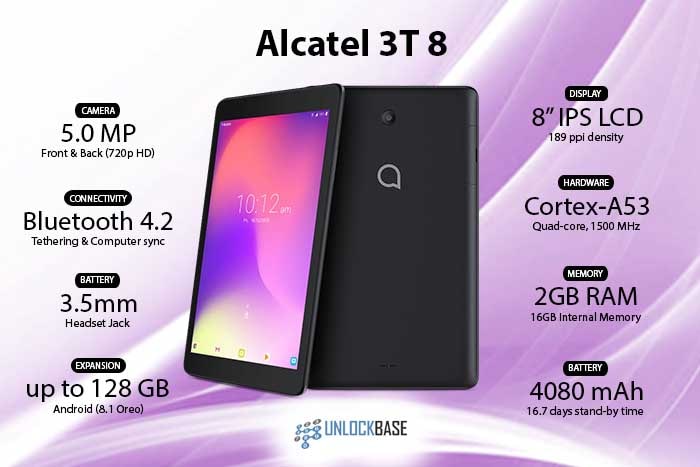 Moreover, the Alcatel 3T 8 comes with a gargantuan 4080mAh battery with a standby time of up to 400 hours in the 4G network. Despite its huge battery size, it won't last you a day of video streaming because the average usage time for LTE video streaming is only 6.7 hours. If you're video streaming via Wi-Fi, it will last you a little longer, which is approximately 8.35 hours.
Alcatel 3T Build and Design
This family-friendly tablet is offered only in one color, which is metallic black. It has a considerably ergonomic 10.37oz of weight and comes with an Asahi glass. It is comfortably slim just like your regular smartphone, but it doesn't have the most stylish look.
It doesn't look remarkably amazing on a first look, but with bezels on all 4 sides of the display, you'll have ample room to hold it comfortably without accidentally touching the screen.
Want to change carrier? Unlock your T-Mobile phone with us and save money! 
Alcatel 3T 8 vs Lenovo Yoga Tab 3 8" vs Samsung Galaxy Tab A 8.0
In the table below, we compared the tech specs of Alcatel 3T 8" to two of the Android tablets within its price range. Though the Alcatel tablet doesn't particularly stand out or have a "wow" factor, it's clear that its manufacturer chose to make up with the lack of luster by being in the middle; offering features that some brands don't and by serving a specific target market: parents with kids.
Lenovo's tablet clearly has the "wow" factor because of its cool features: rotatable camera, versatile design, Dolby Atmos speakers, and a really huge battery size which is a power bank at the same time.
Samsung's tablet, on the other hand, doesn't come out with a spectacular design like that of Lenovo Yoga, but it makes up for having a better camera and video recording quality.
Alcatel 3T 8"

Lenovo Yoga Tab 3 8"

Samsung Galaxy Tab A 8.0 (2017)

Processor Speed

1.5 GHz quad-core processor

Quad-core 1.3GHz

Quad-core 1.4GHz Cortex-A53

RAM

2GB

1GB

2GB

OS

Android 8.1 Oreo

Android 5.1

Android 7.1 (Nougat)

Battery Size

4080mAh

6200mAh

5000mAh

Rear Camera

5MP

8MP Rotatable camera auto-focus

8MP

Front Camera

5MP

5MP

Headphone jack

Yes

Yes

Yes

ROM

16GB

16GB

16GB

External Memory

Up to 128GB, microSD

Up to 128GB, SD Card

Up to 256GB, microSD

Display Size

8.0"

8.0"

8.0"

Video Capture

720p 30fps

720p 30fps

1080p @30fps

Price tag

$158 (T-Mobile)

Colors

Metallic Black

Slate Black

Black, Gold
Alcatel 3T 8" definitely has competitive key features, and for the price, it's definitely worth it. For a simple source of entertainment for your children, it really is wonderful to have on the go to keep your children entertained safely while they're on the internet.