Your overheat Samsung may suffer from issues such as a drained battery or a forced shutdown. Your overheat Samsung might become too hot for a number of different reasons. In the upcoming sections, you will find some hints and tips that will prevent your gadget from becoming too hot.
Overheat Samsung Phone Reasons
The growing number of reports of Samsung and other Android phones overheating diminishes the otherwise positive mobile experience. It's to be anticipated that modern cell phones will use more power and have more capabilities. The bigger problem is when the phone becomes too hot to hold, even when it isn't doing any particularly processor-intensive activities. It's important to keep in mind that overheat samsung phone may lead to battery and other hardware concerns down the road, which in turn reduces performance.
Any CPU-intensive activity will raise the phone's temperature. During initial setup, a new phone may become warm as it restores apps and data. Long-term use of video games or the camera will also heat things up.
Fast charging is another cause. Your phone can charge in under an hour, but it may warm up.
The environment is equally crucial. In warmer conditions, your phone will heat up more, especially if it's in a case. Even if your gadget overheats as projected, it shouldn't be too hot to hold.
When your Samsung phone overheats, that's worse. Users report their devices getting too hot even when no apps are running. Slowing the device's processor can prevent overheat Samsung phone. Malware or software faults can cause overheating, which is hard to spot.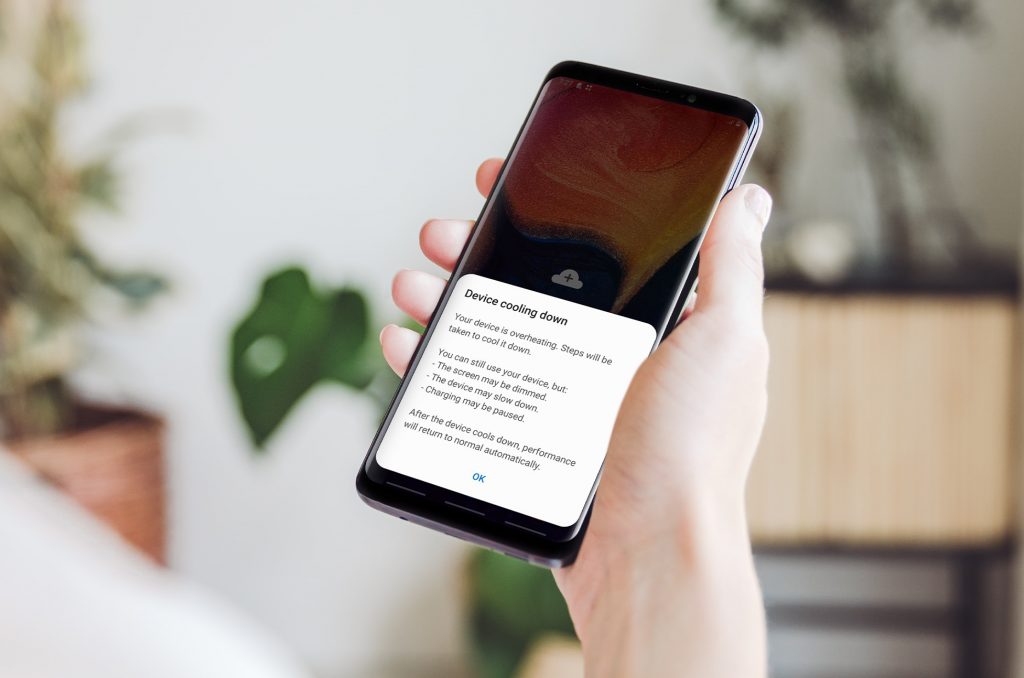 How to fix your overheat Samsung Phone
Overheating is a far more serious problem when it occurs suddenly on your Samsung smartphone. Users have complained that their gadgets become uncomfortably hot to hold even when they are not actively using any applications. Some Samsung smartphones can prevent the processor from overheating by reducing its speed. Malicious viruses or software faults are a common cause of overheating issues, but they can be hard to spot.
Stop all running applications
Stop using your phone if it's overheated. Close your app and all background apps. Swipe up from the bottom of the screen to open Recent Apps and close background apps.
You can disable background data usage if you can identify the app causing overheating. Settings > Connections > Data Usage > Wi-Fi (or mobile) data. Disable background data for the app. This disables background app refresh.
Next, stop unnecessary applications from operating in the background. Go to Settings > Battery and device care > Battery > Background usage limits > Put unused apps to sleep. Add applications to the Deep sleeping apps list to block them from operating in the background.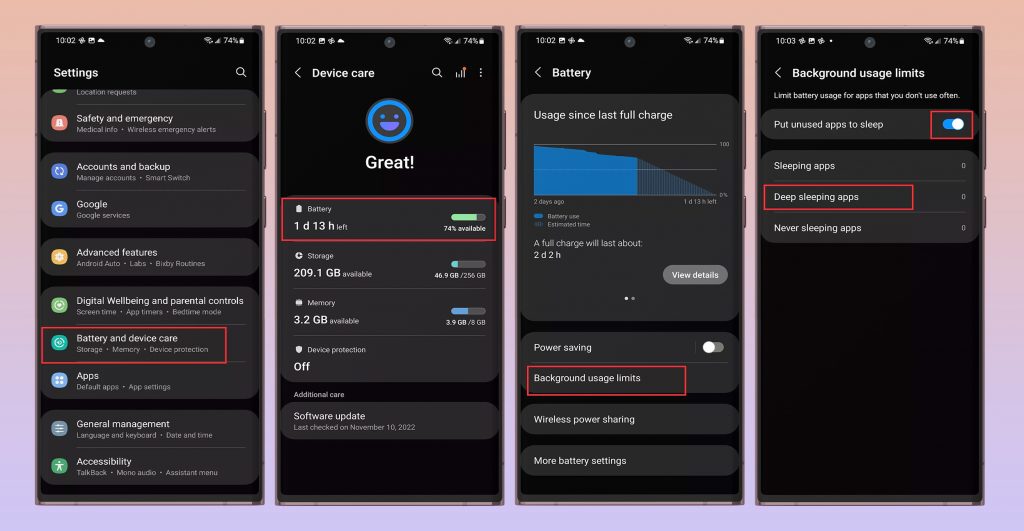 Adjust battery settings to decrease Overheat Samsung phone
Overheat Samsung phones are also caused by quick charging. Don't use the phone while it's charging, and don't leave it plugged in overnight or after it's full. Hardware issues might cause overheat samsung phones when charging. Check for frayed or ripped cords and test the charger with additional devices.
Reduce charging speed to prevent overheat samsung phones. Toggle off Fast charging, Super fast charging, and Fast wireless charging in Settings > Battery > More battery settings. This slows charging but won't overheat the phone. Fast charging may not cause overheating and charges the phone quickly.
Change Processing speed to Optimized. High and Maximum settings help with processor-intensive tasks but increase overheating and battery waste.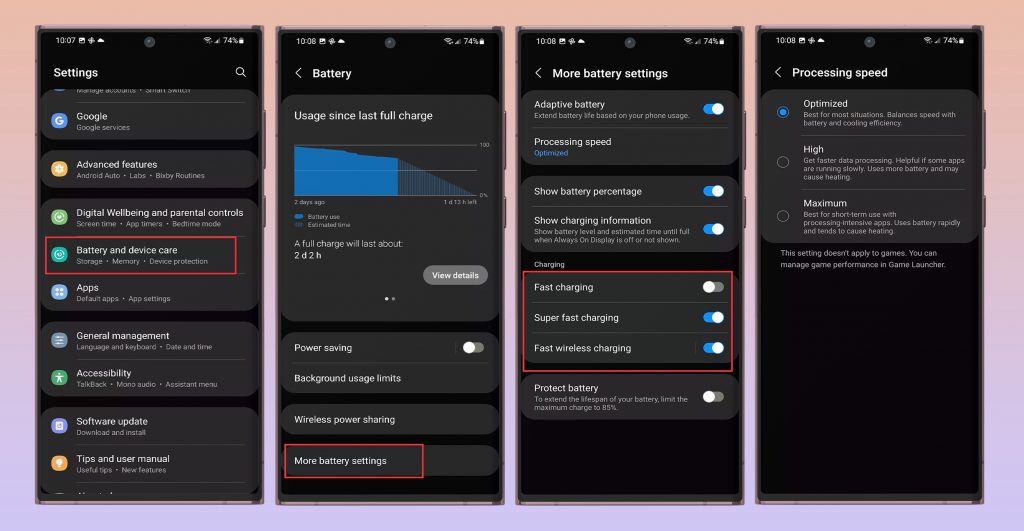 Check to see if there are any errors in the software causing overheat Samsung phone
If your Samsung phone overheats, it may be a malicious app or software bug. Try Safe Mode to check if the issue remains. Hold the power button, long-press the Power off symbol, and tap Safe Mode. If the problem goes away, it's a rogue app. Removing recently installed or updated programs should fix it. An app or software update is the only lasting fix.
Inspect and disable app permission
App permissions cause overheating. A connected problem may force other programs to run in the background without your awareness. Open Permission Manager in Settings > Apps by tapping the three vertical dots. Tap permission (camera, location, or microphone are acceptable choices) to see the apps that have access. Choose Don't allow for app permission. Disable app permissions to check if the problem remains with other apps.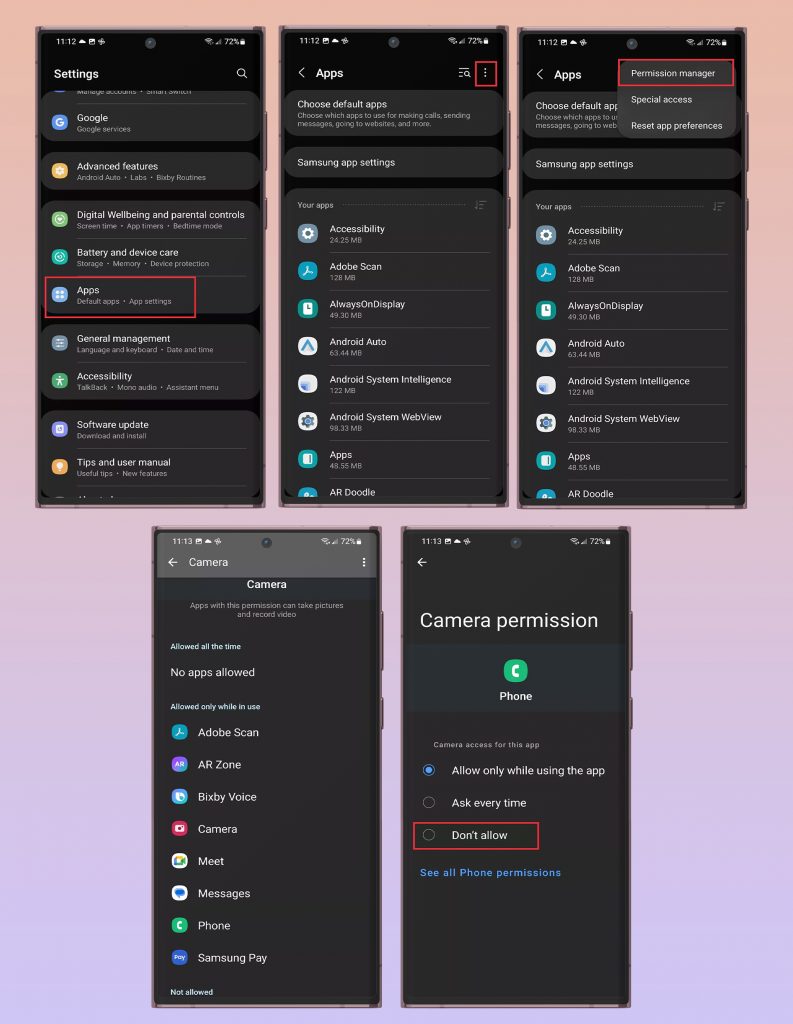 Conclusion
Close all active apps and remove the phone's cover to prevent overheating. If your phone overheats when charging, check the charger and wires, and don't use them. Samsung phones have many software features that can aid with overheating. Please let us know in the comment area below whether this helps and how things are going on your end and how they are working.
All products, and company names, logos, and service marks (collectively the "Trademarks") displayed are registered® and/or unregistered trademarks™ of their respective owners. The authors of this web site are not sponsored by or affiliated with any of the third-party trade mark or third-party registered trade mark owners, and make no representations about them, their owners, their products or services.