Do you have an old Samsung Galaxy Note 3 that is no longer working? The display looks fine but it's not responding even if you charge the battery? Well, before you throw that vintage beauty away, there's a way to bring it back to life and even remove the sim lock from its carrier. And that is by replacing its motherboard. 
Disclaimer: Yes, you will have to tinker with your phone's hardware. By following this guide, you acknowledge the risk and we will NOT take responsibility if any damage is done. 
Now that we have that cleared up and you still want to bring your Note 3 to life, here are the basic tools you will need to follow this guide: 
Samsung Galaxy Note 3 

A factory unlocked Samsung Galaxy Note 3 Motherboard (you can purchase it from third-party sellers, make sure to double-check the correct model number).

J1 screwdriver
If you have all the tools needed, then let's get started! 
Below are the steps on how to replace Samsung Galaxy Note 3 Motherboard:
Carefully remove the battery, SIM card (if any), and microSD card (if any).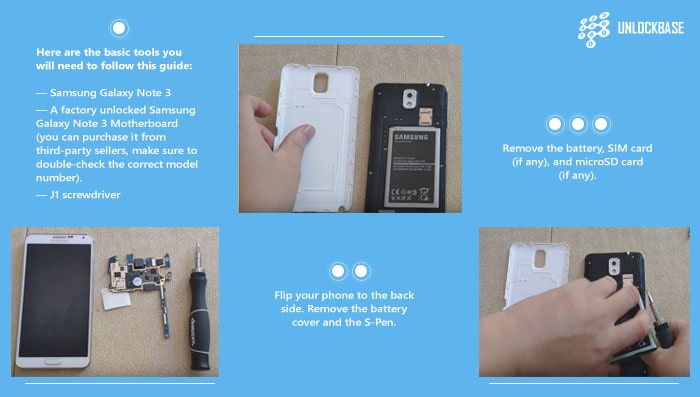 Remove the IMEI sticker, and replace it with one that came with your replacement motherboard. If if didn't come with a sticker, leave it blank.
Take out all twelve screws.
Remove the cover by prying on the side of the battery compartment.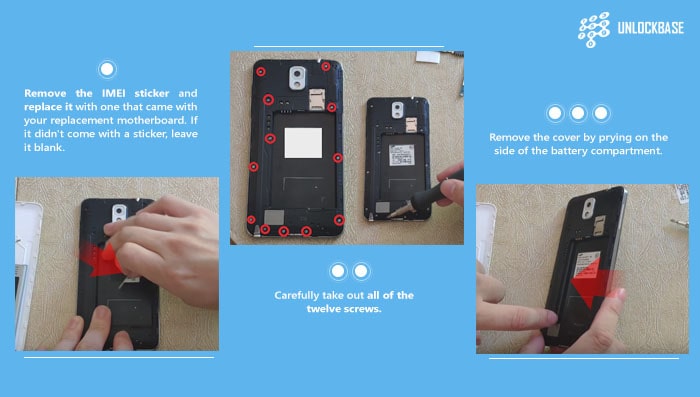 Disconnect all of the cables as indicated by the picture below.
Slowly remove the motherboard from the phone.
Slowly install the replacement motherboard. Work out all of the connectors, and ensure that they're all above the motherboard.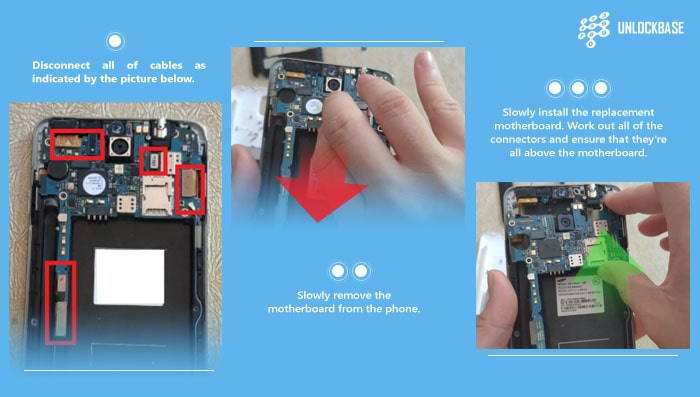 Reconnect the cables as indicated in the picture below.
Replace the cover. Massage the entire edge of the phone. To ensure that the cover is snapped in place.
Screw all twelve screws.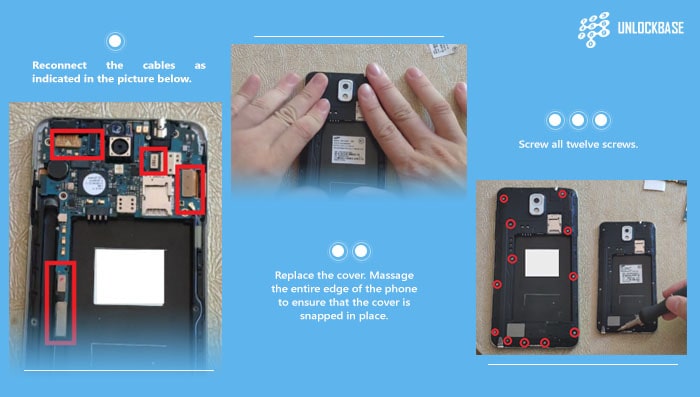 Insert SIM, and/or micro SD card (if you have one).
Insert the S-Pen and install the battery cover.
Turn on the phone and ensure that it works!
If you followed all the steps of how to replace Samsung Galaxy Note 3 motherboard correctly, then your phone should work. This is one of the hacks that can factory unlock a previously locked phone otherwise if you have a sim locked Samsung Galaxy Note 3 that works just fine but you want to unlock or use it with another carrier, you can always have it unlocked through us! 
Give us a chat or go to our unlock phone page and choose your device and your carrier. Price may vary depending on your device model number, carrier or type of service, but we have the most competitive prices and the fastest turnaround times in the market! Over 8 million people worldwide have trusted us to unlock their phones! 
That's it for this guide! If you think this helped you immensely, please return us the favor and share this with your friends! Just click on the share button for Facebook or Twitter at the end of this post. 
Follow us on FB or Twitter for more guides, infographics, and the latest phone reviews!