May. 10
2023
How to find your samsung phone when lost
Samsung

When you depend on your Samsung phone for communication, work, or entertainment, losing it can be a frustrating experience. However, there are a number of methods for locating your device and minimizing the risk of losing your data and private information. This guide will teach you on how to find your samsung phone when lost using a variety of methods and instruments.
How to find your samsung phone when lost? Utilize SmartThings Find (Samsung's Find My Mobile)
Samsung's SmartThings Find is a web-browser-accessible utility. The service has similarities to Apple's Find My platform in that it can help you remotely locate, back up, and erase your Samsung Galaxy phone or tablet, allowing you to maintain complete privacy control.
It includes inventive features such as Track location, which automatically sends your device's location every 15 minutes. In addition, it allows you to ring your device at maximum volume, secure its screen, prevent others from turning it off, and display a contact message so that anyone who finds your phone can contact you.
Access the settings on your Galaxy device.
Tap Security and privacy by navigating down.
Select Find My Mobile Device.
Select Allow this device to be located.
Enable this phone to be tracked from this menu.
Enable the following options for increased safety: Remote unlock, Send previous location, and Offline finding.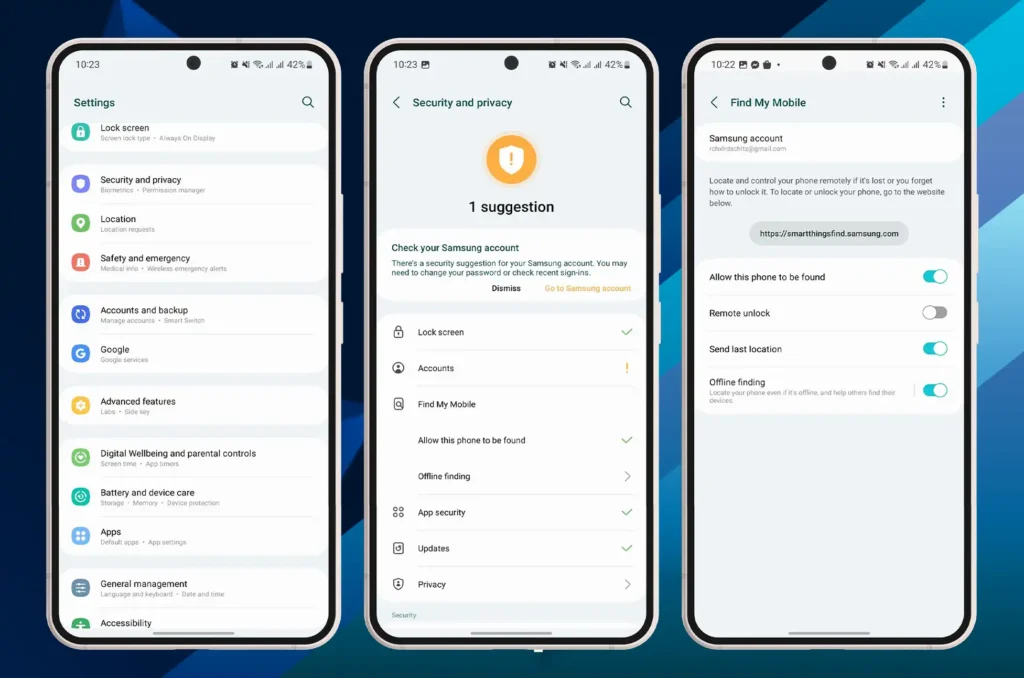 How to find your samsung phone when lost? Find your device using SmartThings Find
Go to the Smart Things Find webpage and sign in with your Samsung account if you lose your phone and need to locate or delete it. You will then be presented with a list of Samsung devices that can be located with the service.
If the device's location is determined, an active indicator is displayed on the map. You will be able to view its status, battery life, and network connectivity type (cellular or Wi-Fi).
SmartThings Find can only locate a device if it is powered on and connected to a network. Therefore, Samsung provides a feature that allows you to remotely adjust power settings to extend the life of lost devices and give you more time to find them. Additionally, it can be used to regain access to a device in the event that the password or PIN is forgotten. To accomplish this, enable Remote Unlock during setup.
How to make your phone ring on SmartThings Find
SmartThings Find can help you locate your device using the Ring feature, regardless of the volume or sound mode settings. To cause a device to ring:
On the Find page for SmartThings, select Ring.
Choose Start from the following pop-up menu.
The device alerts you to its presence by ringing for one minute.
This ringing can be stopped from the device, so it may take a few attempts while you awkwardly scan the crowd for individuals with confused or concerned expressions.
Utilize Google's Find My Device service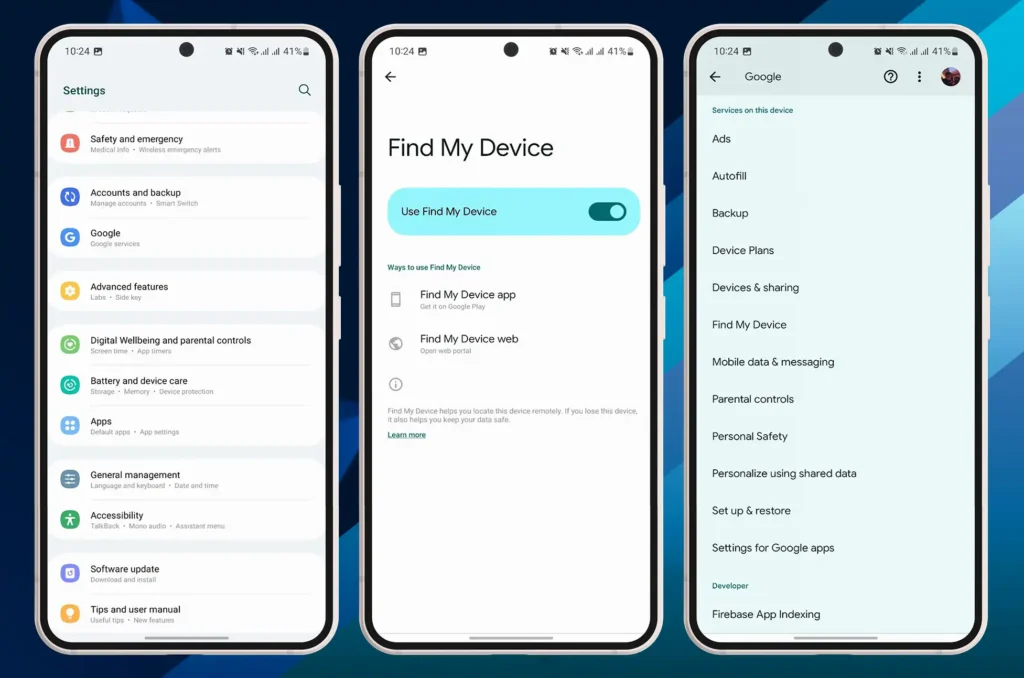 Navigate to Settings > Google > Security > Find Device.
Toggle the Find My Device option on.
Enable Location to monitor the location of your mobile device.
Google Find My Device is a similar service that is compatible with all Android devices, including Samsung smartphones. To use this service, you must have a Google account and Find My Device enabled on your mobile device. Here are the steps:
You can use the Find My Device website or another Android device to locate your phone, play a ringtone, or delete its data.
Utilize Samsung Galaxy Watch in locating your phone
If your Galaxy Watch is linked with your lost phone, you can use it to locate the device. It is not as comprehensive as SmartThings Find, but it is simpler to use and does not require computer access. Here are the steps:
Swipe up from the bottom of your paired Galaxy Watch to access the apps drawer.
Tap the white rectangle with a blue magnifying glass on a blue background that represents the SmartThings Find icon.
To make your phone ring, tap Start.
Conclusion
Losing your Samsung phone is never a pleasant experience, but with the proper tools and strategies, you can increase your chances of recovering it and safeguarding its data. Whether you use SmartThings Find, Google Find My Device, the Samsung Galaxy Watch, or a combination of these methods, ensure that you act swiftly and remain safe. Consider backing up your data, securing your phone with a password or biometric lock, and avoiding risky behaviors such as leaving your phone unattended or downloading malicious applications.
All products, and company names, logos, and service marks (collectively the "Trademarks") displayed are registered® and/or unregistered trademarks™ of their respective owners. The authors of this web site are not sponsored by or affiliated with any of the third-party trade mark or third-party registered trade mark owners, and make no representations about them, their owners, their products or services.