Apr. 5
2016
Beat the phone scammers with UnlockBase
Tips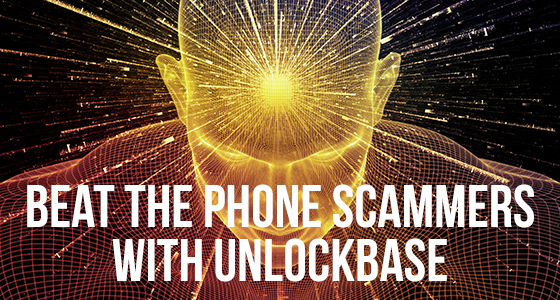 Did you know that over 50% of cellphone owners – 58% – have been the target of phone scammers in the past year alone? This staggering statistic means that one in two people will receive a scam call, and it's a 41% rise in the number of such calls since 2013. These figures were released recently by the Financial Fraud Action UK (FFA UK) and usually such trends in the UK reflect a much worse situation in the USA, so it's safe to say, there are a whole lot of scammers working the phones.
This type of phone scam has become known as 'vishing', but what is a vishing phone scam? This kind of call typically involves fraudsters deceiving people into believing they are speaking either to a police officer, bank staff, or a representative of just about any financial or even a government department.
There are apps that can be downloaded to create such spoof calls. Amazingly calls can appear to be coming from a number you know and trust such as your bank, when in fact it's a criminal call you from hundreds of miles away.
Skilled fraudsters have convinced people they are genuine by appearing to know certain financial and personal information about them, all of the information has been previously hacked form your account details. The fraudster will then proceed to explain that your savings account or current account is at risk from hackers, and that they are urgently recommending you to switch the account to another account number.
This exact trick has robbed several unsuspecting people of tens of thousands of pounds of their savings. Sometimes it is possible to stop some of the funds before they reach the fraudsters account, but if you leave it too late to double check with the bank and the money is transferred, there is nothing your bank can do, and you are liable for the loss. Another variation of a phone scam involves the fraudster persuading people to hand over cash directly to a courier, or to invest in a scheme that is apparently making others a small fortune.
If you are suspicious about a call from your bank, tell the caller you are going to hang up and call back to verify the authenticity of the call. However, even then beware. Scammers actually encourage people to hang up and call their bank to verify the legitimacy of the call. A phone line can stay open for up to two minutes, so the fraudsters remain on the line and play a dialing tone to trick the individual into thinking they're calling their bank. Banks, police and other official institutions will never ask you to call them back to verify their authenticity.
Leave the phone call to your bank for at least 5 to 10 minutes to frustrate the fraudsters, and always be wary of giving out bank details and other sensitive information. Most banks have a password you need to repeat in part prior to proceeding with the call, you might want to test the caller by deliberately mentioning incorrect letters to your password. If they say it's ok, you know you are dealing with a scammer.
Information is everything to a scammer. Just your name, email address and phone number are enough for fraudsters to find out your home address and then sell your details on to other scammers in places as far away as Romania and Russia.
UnlockBase can stop criminals in their tracks
If you start receiving too many of these calls, and many people complain of being plagued by scam calls on a daily basis, UnlockBase can quickly come to your aid.
UnlockBase is the biggest online remote cellphone unlocking service on the web. If you find your cellphone number has been compromised by fraudsters, don't put up with it. We can unlock your phone quickly, easily and economically, leaving you free to find another service provider and a brand new number the scammers don't know about.
Guard your information carefully
Never disclose your new number to anyone you don't know or trust. Do not broadcast your number on social media or fill in online forms that require a cell phone number unless you are certain you know the number will be handled in complete confidence. Whether you're looking to invest, or searching for a new bank account, you should always be the first one to make contact. If the caller is trying to hurry you and brow beat you into a decision, be suspicious, say no.
Unfortunately, scammers have been able to steal information from official records and the DVLA, the British driving license authority, so always be on your guard when you receive calls from people you do not know.