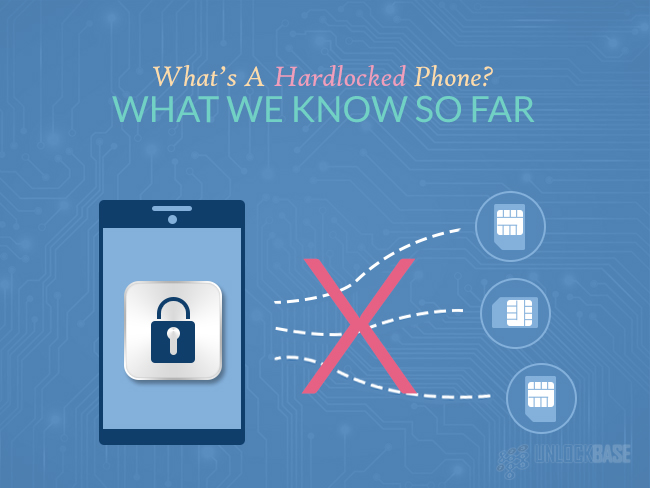 Hi, welcome to UnlockBase! We are one of the first and most trusted mobile unlock service providers and we unlock any mobile device from all over the globe!
Our expertise of over a decade will provide the solution to all your mobile unlock needs and challenges and today we will discuss one of the most common unlock issues, and that is a hardlocked phone. If you are here because you discovered your phone is hardlocked or if you suspect it is, then you're in the right place.
Let's first unfold the meaning of a "hardlocked" phone, the circumstances that result to it, and how to know if a phone is hardlocked.
What Does Hardlocked Mean?
Hardlocked, as a technical term, means that your phone cannot be SIM unlocked anymore.
If you got your phone from a service provider through a postpaid contract, your phone is likely to be SIM locked to them. This means that you can't use any other SIM in your phone apart from which that came from your current service provider.
Normally, it is allowed to SIM unlock your phone once you are off your 2 or 3 year postpaid contract. However, if your phone is already hardlocked, you wouldn't be able to SIM unlock it anymore.
On the other hand, if you bought your phone directly from the manufacturer your phone is by default, factory unlocked and can be used with any carrier all over the globe, as long as it can work with their network. Note that, a phone designed to be used for a GSM network won't be able to work with a CDMA network. So, make sure that your phone is compatible to the network type of the service provider you want to switch to.
How Do I Know If My Phone is Hardlocked?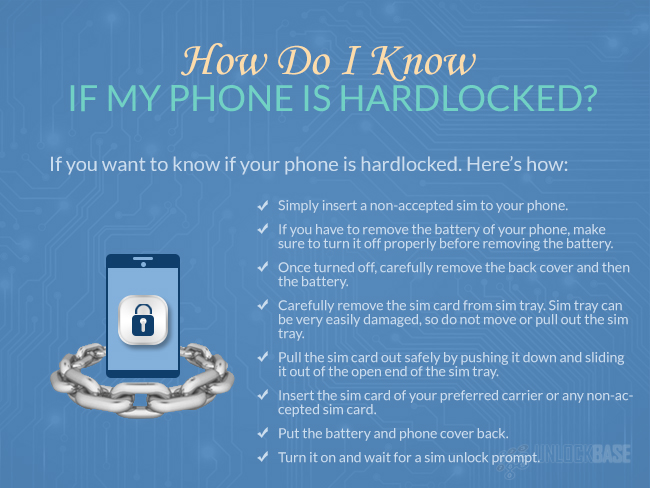 First thing you have to check when unlocking your phone is its unlock eligibility. It's important for you to check whether your phone is already unlocked or hardlocked, because this helps us determine the right course of action and it also guarantees your refund.
If you want to know if your phone is hardlocked. Here's how:
Simply insert a non-accepted sim to your phone.
If you have to remove the battery of your phone, make sure to turn it off properly before removing the battery.
Once turned off, carefully remove the back cover and then the battery.
Carefully remove the sim card from sim tray. Sim tray can be very easily damaged, so do not move or pull out the sim tray.
Pull the sim card out safely by pushing it down and sliding it out of the open end of the sim tray.
Insert the sim card of your preferred carrier or any non-accepted sim card.
Put the battery and phone cover back.
Turn it on and wait for a sim unlock prompt.
There are older phone models which do not greet you with a SIM unlock prompt if you insert a non-accepted sim. If you don't see a sim unlock prompt, check if you are getting signal bars or if you can make a call. If you can make a call or send a text message successfully with a different sim then, your phone is probably SIM unlocked.
On the other hand, if your phone isn't receiving a signal or if you can't make calls or send a text message, then it's highly likely that it is still SIM locked.
Note that this is just one probability, as mentioned earlier, your phone won't be able to pick up a signal from a carrier that isn't compatible to it. You can rule out this possibility if you ask your new/target carrier their network-type and if your current phone model can work with them.
What Makes a Phone Hardlocked?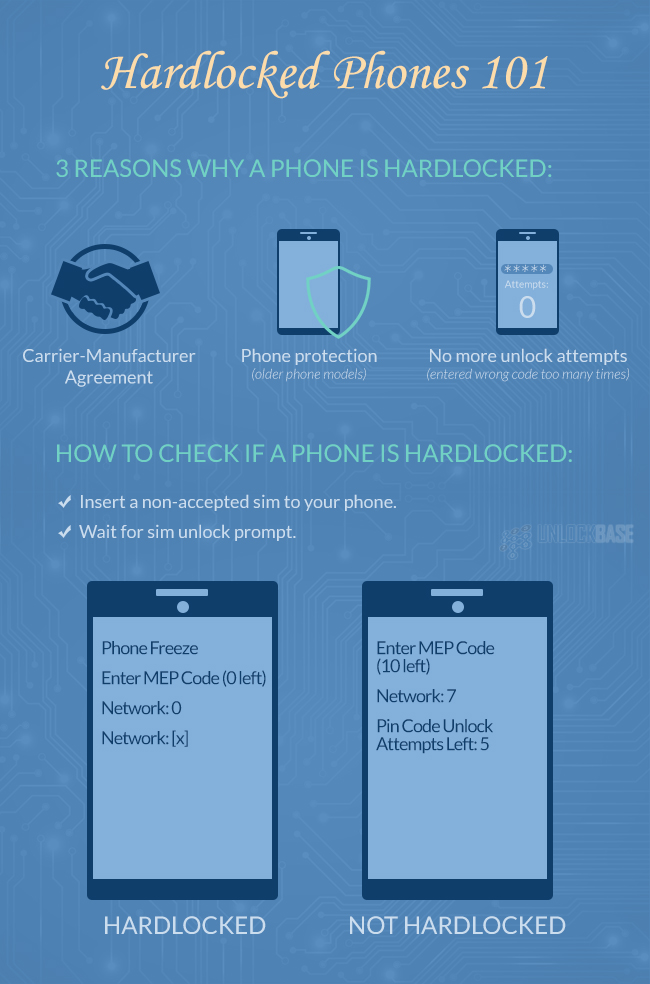 A phone can be hardlocked for so many reasons. It could be:
A carrier requirement
A form of protection (as some old phones are)
A Product of your own doing.
Mobile manufacturers all over the world have specific agreements with mobile communication service providers. Some of these agreements meant that your phones must be used exclusively by the vendor or the mobile service provider. This is the reason why some phones can't be SIM unlocked because there was no way to do so.
On the flip side, these hardlocked phone agreements are no longer allowed in most countries as government laws are being tailored to address the needs of the masses. By being able to unlock your phones, you are being given the freedom to choose your own provider and thus the mobile industry is made more flexible and the service providers provided competitive prices.
Now, if your phone falls on the latter category, your phone will only be eligible for unlock if your carrier allows you to enter a sim unlock code. If there's no way you can enter an unlock code, then your phone must have a different unlock method such that of T-Mobile and MetroPCS where a Device Unlock app is installed and needs no code to be unlocked.
On the other hand, if you can't enter the unlock code because your phone restricts you to do so, it's probably because you entered the wrong code too many times and used up all the unlock attempts. Using up all your unlock attempts is one of the main reasons why your phone could be hardlocked.
If you ever thought of trying your luck and enter random digits on that sim unlock prompt, always make sure you don't run out of chances. If you otherwise had the phone as a gift (hand-me-downs), or if you bought it online, you can ask the previous owner if they tried doing a SIM unlock before. Simple details saves you time and, of course, it sets expectations correctly.
Takeaway
Although, our team here at UnlockBase would want to help you with a hardlocked phone, it's most likely going to end up still locked. We do have other methods of unlock that don't need code entry, such as the Cable Unlock Software, but we still need to confirm the unlock eligibility of your phone as this method doesn't work with hardlocked phones.
If you pursue to try unlocking your phone even after confirming it is hardlocked using our services, we won't be able to guarantee that it will be SIM unlocked successfully and this will also disqualify you of refund.