Jun. 18
2021

Released August last year, the Samsung Galaxy Note20 Ultra 5G is aimed at serving a very specific target market. Perfect for those who take 'work' wherever they go or for content creators who record or make content in the most random moments, this phablet is everything you need for a portable 'studio'.
If you're considering buying this specific model from the Samsung cosmos, let's take a look and unlock its features.
Top-level Overview
Pros
The brightest AMOLED Screen so far
Sharp Space Zoom cameras
Long battery life
Powerful new features
The gaming experience is amazing
The S Pen has become much more intuitive
Cons
Very expensive
Less memory capacity compared to previous Note models
The curved display is aesthetically pleasing but annoying at times.
Fingerprint resistant finish
The camera bulges too much and it's too bulky
Design and Build Quality
What you'll like:
If you're buying a Note for the first time, you'll definitely fall in love with the Note20 Ultra. It is a beautiful phablet (phone and tablet) with a matte bronze finish standing 6.9 inches tall. The weight of the phone is just about right, it is substantial enough to assert itself as a premium flagship device, but not too heavy that it feels like it's made with cheap materials.
The whole phone is made of Gorilla Glass both front and back and has a stainless steel frame. It is fingerprint resistant so you don't have no need to wipe it too often.
And if you're feeling like taking your phone underwater to take incredible beach pictures, have no fear, because this flagship can stay submerged in up to 1.5m underwater for 30 minutes (IP68 dust/water resistant ). For sure you'll have been able to take a lot of pictures by then.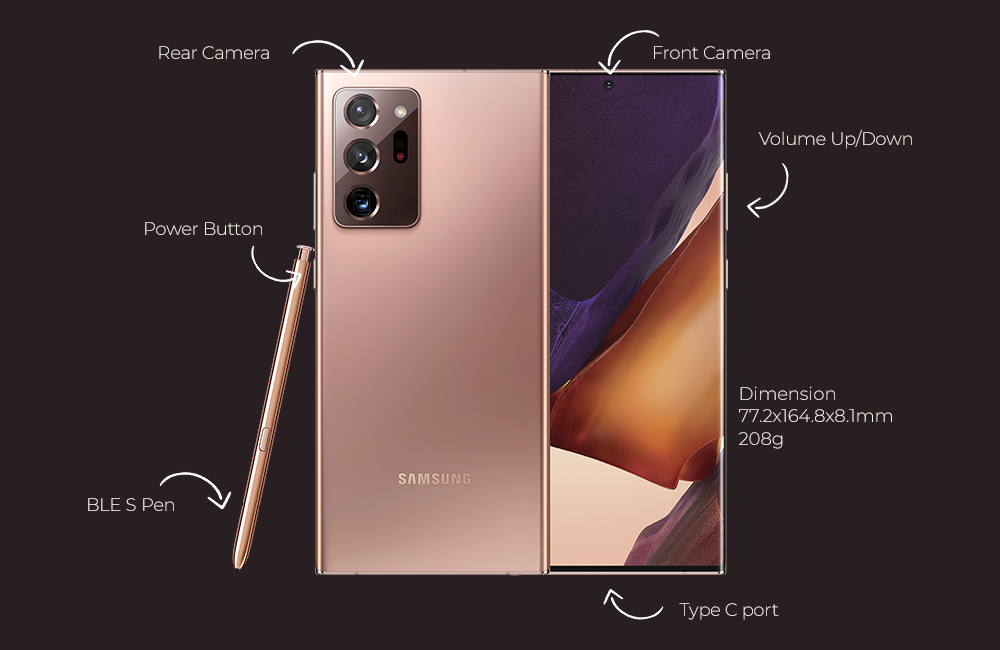 Related: How to permanently Factory Unlock your phone with the Mobile Device Unlock App.
What you won't like:
Design-wise, there are many things you wouldn't like about the Note20 if you were to compare it with other flagships. Just like its predecessors, the Note20 Ultra has a curved display, although Samsung has managed to keep the apps away from the edges, it does cause accidental screen taps.
The cameras at the back bulge off the back too much that the phone can't lay flat on a surface. It makes the phone rock when you lay it down and because they hit the surface first, they are prone to breakage. Good to remember if you're a butterfinger.
It does make up for its 5X optical zoom ability which is very stable even up to 20x. You can zoom up to 50x and still get a decent photo, but it might be a bit too shaky for some. And if you're not a leftie, you probably wouldn't appreciate how they have moved the S-pen to the left hand side in this series.
Lastly, this flagship is very, very expensive. From T-Mobile, the full price is $1299.99 when bought
Tech Features
Galaxy Note 20 5G Ultra
Galaxy Note20 5G
Galaxy S21 5G
Price
$1299.99
$999.99
$799.99
Screen size
6.9"WQHD+ Dynamic AMOLED
6.7" FHD+ Super AMOLED
6.2" FHD+ Dynamic AMOLED
RAM
12 GB
8 GB
8 GB
Storage
1 TB
128GB/256GB
128GB/256GB
Processor & OS
Qualcomm Snapdragon 865 Plus | Android
Qualcomm Snapdragon 865 Plus | Android 10.0
Qualcomm® Snapdragon™ 888 (5nm)
Durability
IP68 Water and Dust Resistant
IP68 Water and Dust Resistant
IP68 dust/water resistant
Battery size
4500 mAh
4300 mAh
4000 mAh
Camera
12MP + 108MP + 12MP Triple Rear Facing Camera
10MP Front Facing Camera
12MP + 64MP + 12MP Triple Rear Facing Camera10MP Front Facing Camera
64MP + 12MP + 12MP Triple Rear Facing Cameras10MP Front Facing Camera
Based on the T-Mobile model.
The Note20 Ultra has an advanced chipset and operating system making it one of the fastest phones today.
What's in the box: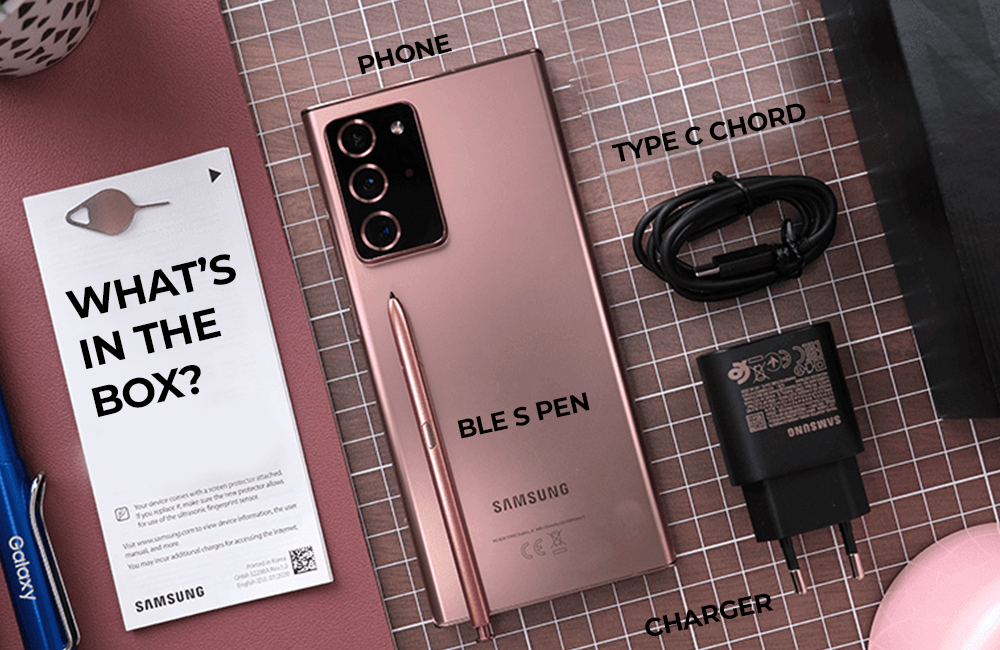 Cameras.
The cameras at the back may look unsightly but it captures way better than the Note20 5G. It has a dedicated autofocus sensor at the back that helps ensure your images are steady and sharp even when you zoom in up to 50x.
It can be a preference type of issue, but the Note20 Ultra cameras make faces washed out or too 'filtered'.
If you're a filmmaker or video content creator that takes a lot of raw videos, the Pro Video Mode is an absolute treat for you. You have the ability to tweak anything from the exposure to the white balance. Moreover, you can choose your bluetooth earbuds as the audio source so when you're recording videos or vlogging outside, you can effectively reduce the background noise.
The S-pen.
Whether you're taking notes or drawing, the S-Pen is your companion for your day-to-day work. It feels natural and smooth, and you will love how it came with new intuitive features.
Samsung added new air gestures for the S-Pen and it's a fast shortcut for when you're in a hurry or multi-tasking between apps. You can even take screenshots you can write on or annotate!
Gaming
Whether you play small or play big, the Note20 Ultra is able to keep up with your needs. You can use DeX Mode and play on a 4K TV and you can stream XBox games and play with no lags.
Aside from gaming, you can cast your Note20 Ultra screen on a TV and open multiple apps. You can also show your whole Note20 Ultra screen on a laptop or PC and be able to take calls, or run multiple apps side by side.
With its 4500 mAh battery which can last a day on normal use, with music or video streaming, gaming, calling and more.
Conclusion:
In conclusion, we can say that the Samsung Galaxy Note20 Ultra 5G is the ultimate dream phone for content creators who take their craft seriously, and a great phone for multi-taskers who take work everywhere they go.
Is it worth its hefty price?
For all the features it offers and the quality of the build, it is every bit worth its thousand dollar price tag.
Compared to other flagship manufacturers within the same price point, the Note20 Ultra boasts superior features than the rest- moreover, with so many trade-in discounts nowadays, you will still be able to slash off a good amount from the original price making this phablet a steal.
That's it for our review of the Samsung Galaxy Note20 Ultra 5G, we hope this helped!
Here at UnlockBase, our goal is to help you unlock the best potential of your device by giving you freedom over your choice of carriers. If you find yourself wanting to permanently unlock your Samsung Galaxy Note20 Ultra 5G, choose the one that best fits your situation below.
All products, and company names, logos, and service marks (collectively the "Trademarks") displayed are registered® and/or unregistered trademarks™ of their respective owners. The authors of this web site are not sponsored by or affiliated with any of the third-party trade mark or third-party registered trade mark owners, and make no representations about them, their owners, their products or services.