Now that the iPhone 14 series has arrived, let's speak about how to get it unlocked from your carrier. With many users expecting to acquire carrier-contracted smartphones, it's only logical to debate IMEI-based unlocks for Verizon iPhone 14.
It's common knowledge that each new iPhone model from Apple has a number of innovative improvements. Once more, this is the case with the newest iPhone, which boasts superior display technology, an A16 CPU, and a top-notch camera. No wonder so many people are waiting up outside Apple stores to get the device.
However, the price of an unlocked iPhone 14 could be beyond of reach for certain people. As a result, providers like Verizon have created monthly subscriptions that provide customers access to the phone. However, in order to qualify, you will need to sign a contract and make monthly payments to them for a few years. You may not breach this agreement since doing so would result in financial penalties. There will be a network lock on the iPhone 14 that can only be removed by a carrier. A SIM card from another network cannot be used with this device (ESIMs). You may avoid this by removing the need for a SIM card from your smartphone by doing an IMEI unlock.
How can I tell if my Verizon iPhone 14 is locked or unlocked?
In the past, finding out whether or not your iPhone is locked required phoning your carrier and getting to a human who can answer such a basic inquiry. However, Apple implemented a new feature last year that makes this process much simpler. If you're using iOS 14 or iOS 15, you're good to go. Just follow the steps below and you'll find if your iPhone 14 is locked.

Go to settings
Select general
Tap about
Scroll down to carrier lock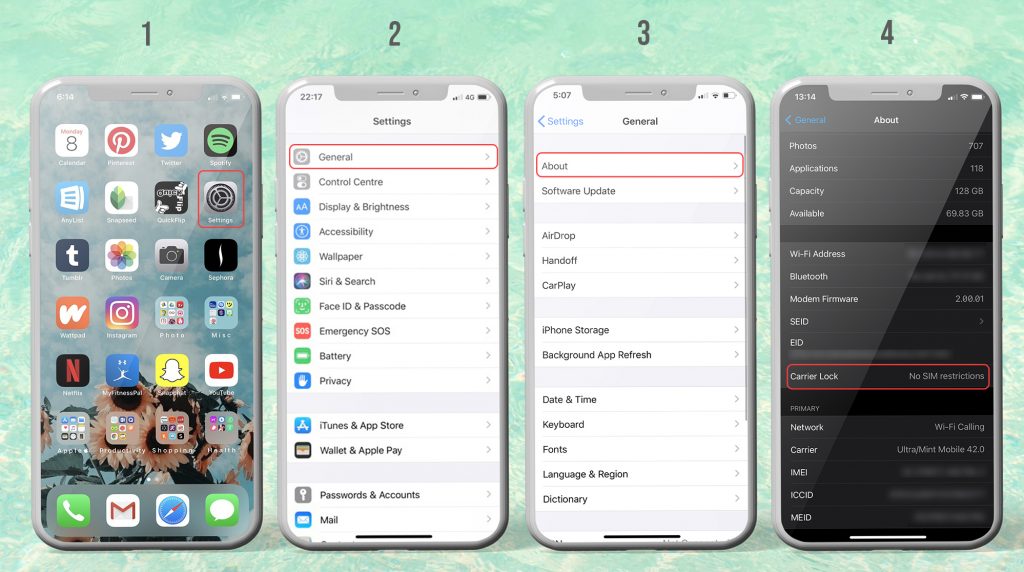 If your iPhone's status line reads "No SIM restrictions", then you're in luck! However, If you see SIM locked, then your Verizon iPhone 14 is carrier-locked.
The advantages of Verizon iPhone 14 unlocked
Here are just a few of the advantages you'll have access to while using a carrier-free Iphone 14. iPhone 14s from Verizon that have been unlocked will accept any GSM SIM card, allowing you to use your own phone number at home without of paying exorbitant data roaming fees. You may use any SIM card from any provider with your smartphone, allowing you to make calls, send text messages, etc. To cap it all off, the resale value of an unlocked iPhone 14 is greater.
Steps to disable carrier lock on your Verizon's iPhone 14
With your newfound understanding of why it's beneficial to have an unlocked Verizon iPhone 14, here are the steps to take to free yourself from the confines of the Verizon carrier.
You will need to know your IMEI number in order to unlock your phone using UnlockBase. You can get your IMEI by going to Settings > General > About or by dialing *#06# on your iPhone's keyboard.
Steps to unlock your Verizon iPhone 14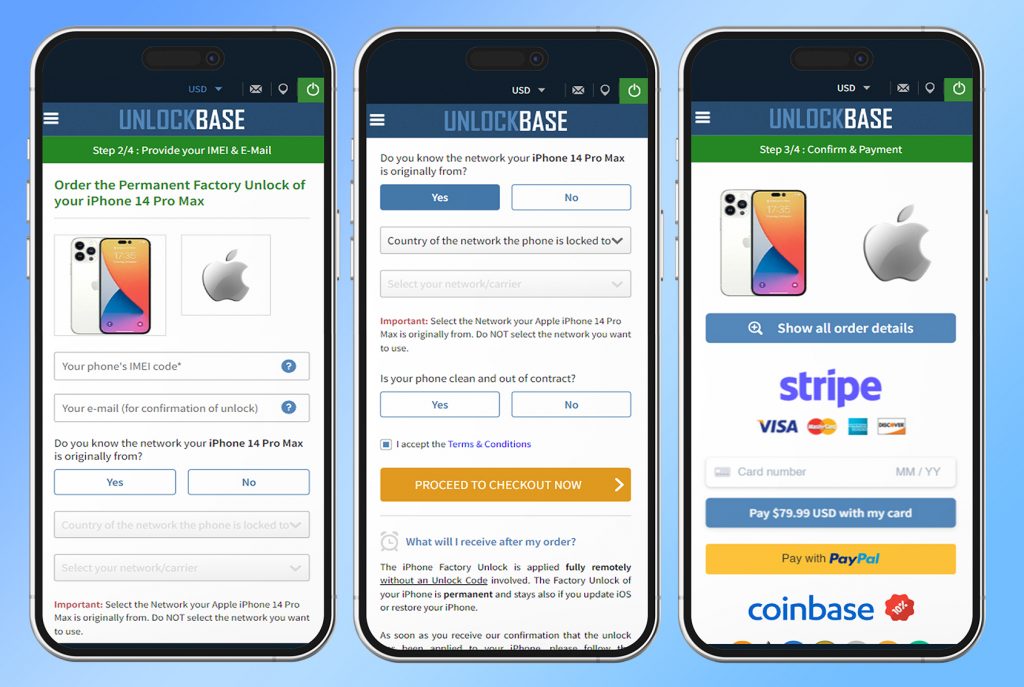 Go to : UnlockBase
Select the mobile device's manufacturer.
Enter your phone's IMEI number here.
Please enter your email address here to verify it.
You will be requested to choose the country to which the phone is locked.
Select your network or service provider.
Confirm that your money was processed successfully, and then await a confirmation email.

If you are not 100% sure which network your iPhone is originally from, please order an iPhone GSX Network Check report.
After your purchase has been finalized, Apple's IMEI database will designate your IMEI as whitelisted. This will provide you with a permanent official unlock, guaranteeing that your warranty is not canceled and allowing you to update to the latest version of iOS indefinitely.
Using an unlock code makes the process of unlocking a used iPhone from your carrier considerably simpler. It requires neither prior knowledge nor equipment on your behalf.
Please follow the instructions indicated below:
Remove your current cellular plan
Set up another cellular plan with your new carrier.
Your iPhone will automatically activate with your new eSIM Card.
You can now use your iPhone with any network carrier worldwide!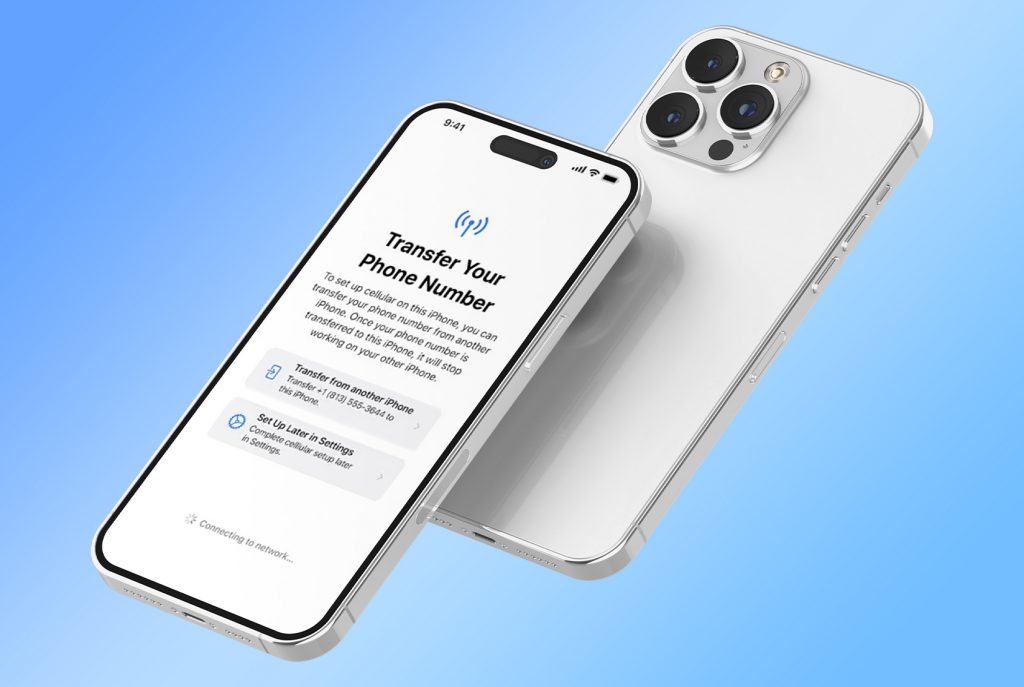 Conclusion
There is no need for you to be concerned about the service being disrupted in any way as you are free to continue using your Verizon iPhone 14 Unlocked in the same manner as before. After you have received a message from us stating that your Verizon iPhone 14 has been unlocked, you will be able to use it with any sim card that you choose just by putting it into your device. This freedom will be available to you as soon as you have received the message. Please let us know in the comment box below if there is anything we can help you with.
All products, and company names, logos, and service marks (collectively the "Trademarks") displayed are registered® and/or unregistered trademarks™ of their respective owners. The authors of this web site are not sponsored by or affiliated with any of the third-party trade mark or third-party registered trade mark owners, and make no representations about them, their owners, their products or services.