Dec. 15
2017
No More Unlocking Fee! CRTC Enables Phone Unlocking Free of Charge
Unlock Phone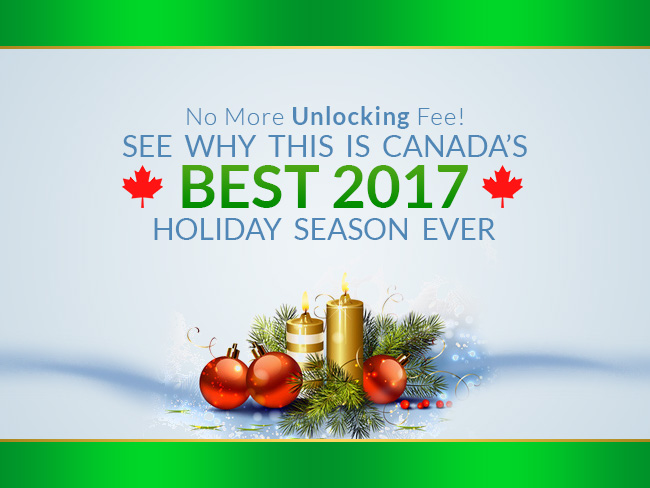 This has to be one of Canada's best holidays ever, since the CRTC (Canada Radio and Telecommunications Commission) rules that all the new phones shall be unlocked upon purchase starting December 1, 2017. And not only that, it also means Canadians will no longer have to pay for any unlocking service even for older devices which they purchased before the CRTC ruling.
Unlocking fees and locked phones are now banned and this applies to every account whether individual or small business. The 15-day trial period also lets customer return their near-new condition device at no costs within the allowed monthly usage.
Although this is a good news to Canadians, some people aren't really seeing this as a truly positive improvement for telecommunications. Some are not so enthusiastic about the news as it could be both a boon and a bane to the Canadian masses.
The Canada Big Three, namely Bell, Telus, and Rogers reportedly earned $37.7 million CAD just from the unlocking fees in the past year alone. This isn't much compared to their yearly revenue, but $50CAD for an out-of-contract (OOC) unlocking fee is really hefty for the average Canadian.
In the past, consumers were not only charged the $50 CAD OOC unlocking fee. Those who haven't finished their 2-year contract aren't allowed to unlock their phones unless they pay the remaining device balance. It is understood that the phones were subsidized for 24 months and will be fully the customer's property once the contract is over.
From the telco's viewpoint, customers will only unlock their smartphones if they are thinking of cancelling their services and switching to a different service provider. So, as a way to protect themselves from runaway customers, they had set the SIM locks to prevent them from doing just that, especially while being in a contract with them.
If the customer finds another way to unlock their phone and cancel their services without settling their dues with their current provider, there is a possibility that the IMEI, also known as serial number of their smartphones will be included in the national blacklisted database. The customer is actually taking a double hit because they now have a practically useless cell phone and a bad credit score because of this doing.
The carrier lock or SIM lock used to be a legal method to prevent their users from switching to another carrier, and the same rule had been applied by almost all of the carriers all over the world. However, as consumer rights have been more developed and strengthened, a lot of countries already banned locked smartphones to protect consumers from hefty telco charges concerning the unlocking of their cellphones.
In fact, Canada, may have come a little late from this consumer rights development, though. Countries such as China, Singapore, Chile, Croatia, and many European countries had already banned SIM lock more than 5 years ago.
There were speculations about push backs from wireless providers especially the Big Three in order to protect their interests from this ruling. We are yet to witness what is going to happen but speculations about a sudden cost increase of plan rates, the rise of cellphone theft and export, and fraudulent activities have been doing its rounds in the internet.
No matter how bad the consequences might be, this new CRTC ruling will help every Canadian choose the best carrier for their needs without the frustration of paying unlocking fees and the hassle of cancellations.
This will also hopefully, decrease the cost of roaming charges as wireless providers will have to compete with the beastly low text, talk, and data prices of carriers from many foreign countries all over the world.
Well done CRTC, but we're yet to see what the Big Three is cooking in the time being.