Samsung keeps setting new standards in the rapidly changing smartphone industry with its cutting-edge technology and inventive designs. The Samsung Galaxy Z Flip 5 stands out among the company's strong lineup of devices as evidence of its dedication to reinventing smartphone experiences.
We'll explore the Samsung Galaxy Z Flip 5 leaks and give you a sneak peak at this revolutionary foldable phone.
Samsung Galaxy Z Flip 5: The Promising Outer Display
Early leaks from renowned tipster Ice Universe suggest that the main exterior display of the Galaxy Z Flip 5 will surpass its predecessor and even outshine the Oppo Find N2 Flip. This significant upgrade is expected to enhance the cover screen's functionality, although it remains uncertain whether third-party apps or a unique launcher will be accessible. Nonetheless, Samsung is likely to introduce support for advanced tools and tricks, elevating the overall user experience.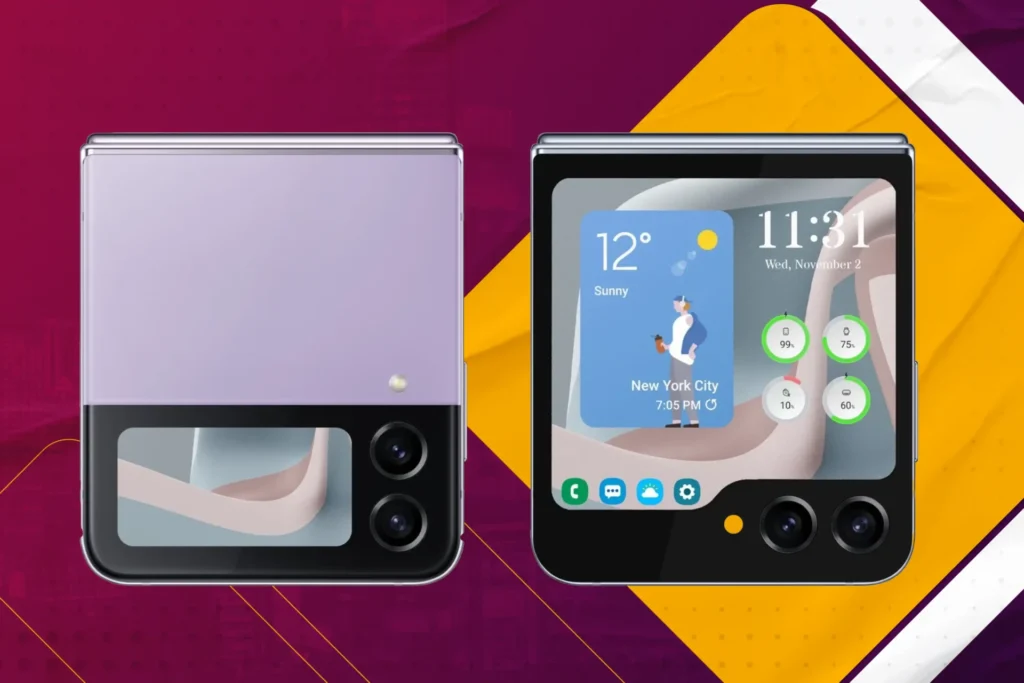 Samsung Galaxy Z Flip 5: An Oddly-Shaped Display
Leaked information reveals an intriguingly shaped display on the front of the Galaxy Z Flip 5. The primary cover screen, rumored to be 3.26 inches with a resolution of 720 x 748, seamlessly blends into a small ticker that displays essential information and status icons—a feature reminiscent of earlier models. Leaked renders and cases provide glimpses of the device, hinting at an intriguing display arrangement.
Samsung Galaxy Z Flip 5: Camouflaging the Display
One intriguing possibility in Samsung's display lineup is the return of the original Flip's ability to camouflage its display. According to leaks, the Galaxy Z Flip 5 might employ AMOLED displays that can match the color of the surrounding shell, offering a seamless and harmonious visual appearance. This intriguing feature, previously seen in the first-generation device's smaller ticker panel, adds a touch of uniqueness to the forthcoming clamshell smartphone.
Oppo's Clamshell Phone as a Benchmark
While the Oppo Find N2 Flip may not be widely available in the US, it serves as a significant point of comparison for Samsung. Featuring a large 3.26-inch cover screen and a seamless folding hinge, sets a high standard for the functionality of clamshell designs. As Samsung aims to exceed expectations, consumers eagerly await news of the Galaxy Z Flip 5's outer display and hinge capabilities.

Read Oppo Find N2 Flip Here: https://www.unlockbase.com/blog/oppo-find-n2-flip-goes-worldwide-making-its-debut-outside-of-china/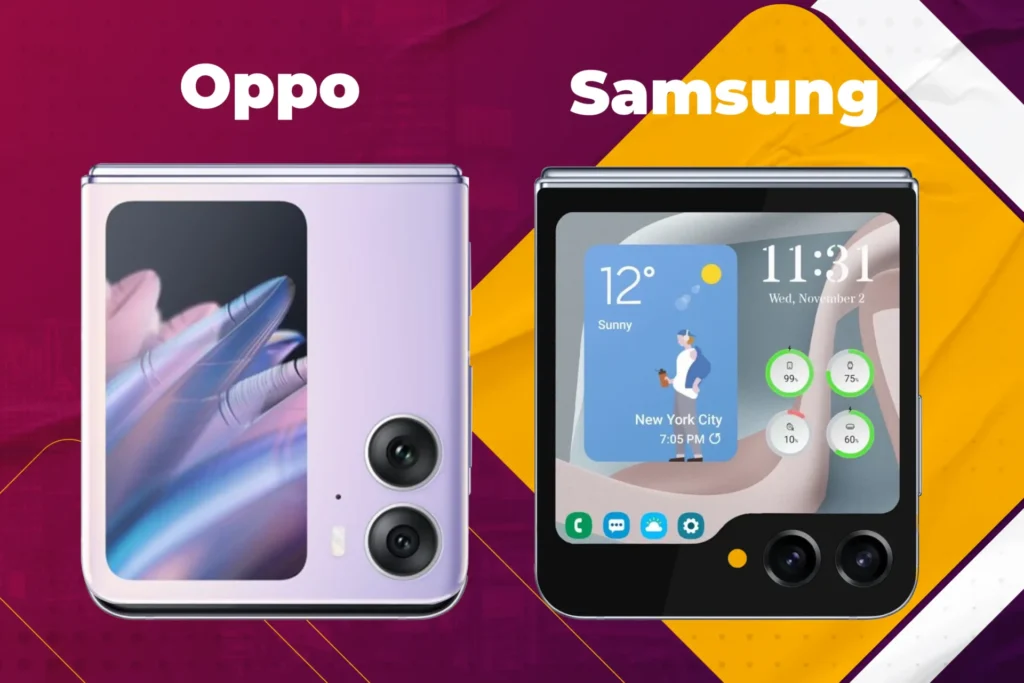 The Hinge Upgrade
Another highly anticipated aspect of the Galaxy Z Flip 5 is the hinge. Oppo's clamshell model exhibits a folding mechanism with an almost invisible crease, surpassing Samsung's previous offerings. Rumors suggest that both the Flip 5 and the rumored Fold 5 might share a similar hinge technology capable of folding flat. Only time, and further leaks, will reveal the truth behind these speculations.
A Glimpse through Renders
Leaked renders provided the first real look at the Galaxy Z Flip 5. True to the original tweet from Ice Universe, the outer screen displayed the anticipated "folder" style. While more details about the hinge are yet to be revealed, the overall design aligns with earlier rumors, heightening excitement among enthusiasts eagerly awaiting this innovative smartphone.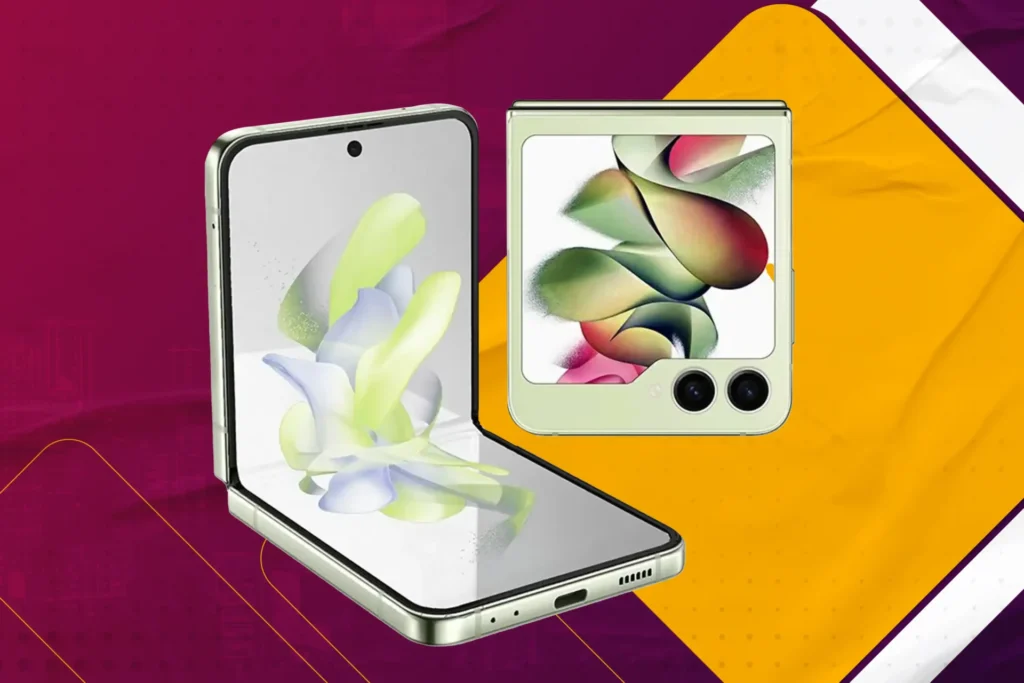 Get ready for an exhilarating experience!
As we eagerly await the summer launch of the Flip 5, there is ample time for rumors and details to unfold in the coming months. With each passing year, foldable devices gain a growing following, captivating a wider audience. The question of whether the Flip 5, or its larger sibling, will be compelling enough to persuade you to part ways with your conventional smartphone is yet to be answered. Only time will reveal the true impact of this innovative device.
Conclusion
As the release of the Flip 5 draws closer, the focus remains on the captivating outer display and hinge upgrades. Leaks and rumors point to a larger and more functional exterior screen, potentially introducing support for third-party apps. The intriguingly shaped display and the possibility of camouflage add an element of curiosity to the device. Furthermore, the benchmarks set by Oppo's clamshell phone raise
All products, and company names, logos, and service marks (collectively the "Trademarks") displayed are registered® and/or unregistered trademarks™ of their respective owners. The authors of this web site are not sponsored by or affiliated with any of the third-party trade mark or third-party registered trade mark owners, and make no representations about them, their owners, their products or services.