Galaxy Z Flip 4 vs Flip 5? Listen up, techies! If foldable smartphones are your thing, you've definitely heard of Samsung's Z Flip line. In this blog, we'll look at the differences between two fantastic devices, the Z Flip 4 and the Z Flip 5. The burning question on everyone's mind: Should I upgrade? Let's get right to the question and see what the answer is!
| | | |
| --- | --- | --- |
| | Samsung Galaxy Z Flip 4 | Samsung Galaxy Z Flip 5 |
| Chip | Qualcomm Snapdragon 8+ Gen 1 | Qualcomm Snapdragon 8 Gen 2 |
| Display | 6.7″ 2640 x 1080 120Hz OLED primary, 1.9″ 260 x 512 OLED cover display | 6.7″ 2640 x 1080 120Hz OLED primary display, 3.4″ 720 x 748 60Hz OLED cover display |
| RAM | 8GB LPDDR5 | 8GB LPDDR5X |
| Storage | 128GB, 256GB, or 512GB | 256GB or 512GB |
| Battery | 3,700mAh | 3,700mAh |
| Ports | USB Type-C 2.0, OTG | USB-C |
| OS | Android 13 (OneUI 5.1) | Android 13 (OneUI 5.1.1) |
| Selfie Camera | 10MP f/2.4 hole-punch camera (80˚ FoV, 1.22μm pixels) | 10MP f/2.2 (1.22μm pixels) |
| Rear Cameras | 12MP f/1.8 wide-angle (83˚ FoV, OIS, 1.8μm pixels), 12MP f/2.2 ultra-wide (123˚ FoV, 1.12μm pixels) | 12MP f/1.8 wide-angle (83˚ FoV, OIS, 1.8μm pixels), 12MP f/2.2 ultra-wide (123˚ FoV, 1.12μm pixels) |
| Connectivity | 5G (inc mmWave), LTE, Wi-Fi 6e | 5G (inc mmWave), LTE, Wi-Fi 6e |
| Dimensions | Open: 71.9 x 165.2 x 6.9mm, Closed: 71.9 x 84.9 x 17.1mm folded (tapering to 15.9mm) | Unfolded: 71.9 x 165.1 x 6.9mm, Folded: 71.9 x 85.1 x 15.1mm |
| Colors | Bora Purple, Graphite, Pink Gold, Blue | Graphite, Cream, Lavender, Mint |
| Weight | 187g | 187g |
| IP Rating | IPX8 | IPX8 |
| Prince | Starting at $1,000 (at launch) | Starting at $1,000 |
Galaxy Z Flip 4 vs Flip 5: Display and Design 
Let's get the most important thing out of the way and discuss the display. The Z Flip 4 and Z Flip 5 both feature that slick, captivating design that will make you exclaim, "Wow!" The Z Flip 4 features a primary display with a resolution of 6.7 inches with a refresh rate of 120 hertz and a cover display with a resolution of 1.9 inches and 260 by 512 hertz, making it ideal for one-handed operation. In the meantime, the Z Flip 5 ups the stakes with a primary display that measures 6.7 inches and has a resolution of 2640 by 1080 at 120 hertz and a cover display that measures 3.4 inches and has a resolution of 720 by 748 at 60 hertz. This provides you with slightly additional screen real estate without making the device excessively bulky.
Nevertheless, when the Galaxy Z Flip 5 is folded up, it appears to be around the same size as its predecessor was when it was folded up. However, the minimal thickness where it tapers off is a tiny bit smaller at only 15.1mm instead of the 15.9mm that we saw last year. It's probably not going to make a huge difference, but it's still comforting to know that Samsung is working hard to reduce the thickness of the phone as much as it possibly can.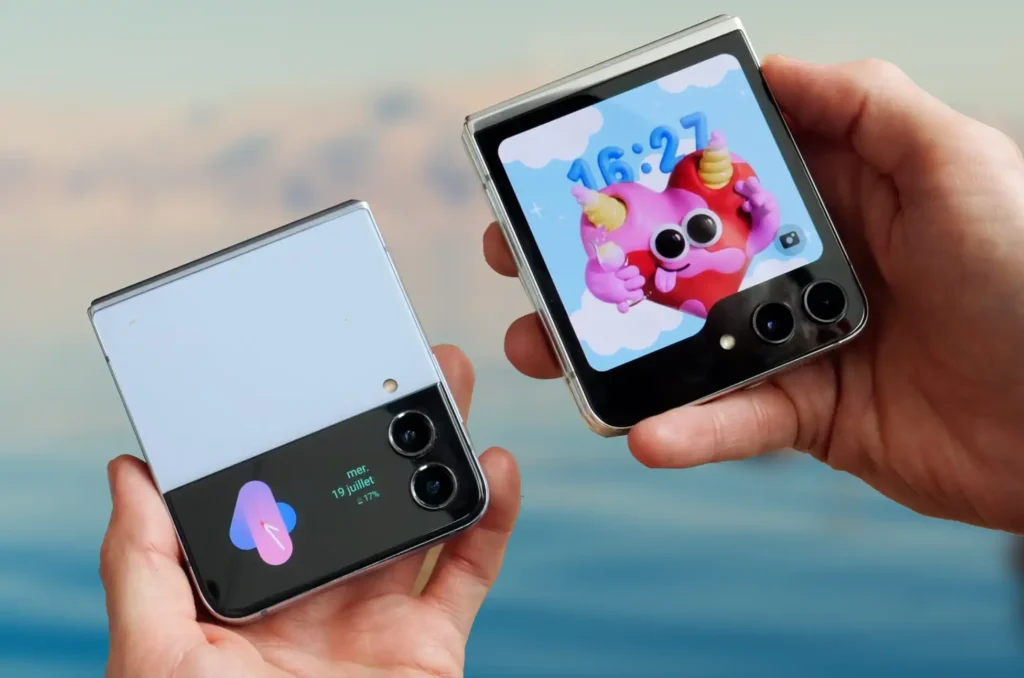 Galaxy Z Flip 4 vs Flip 5: Software and Performance
Both of these devices are quite capable when it comes to their overall performance. The Snapdragon 8 Gen 2 processor in the Z Flip 4 ensures that it performs smoothly and is up to the challenge of managing the apps and tasks you use on a daily basis. But here's the kicker: the Z Flip 5 passes it a step further by adding a more powerful Snapdragon 8+ Gen 1 processor, which means even faster performance and smoother multitasking than before. This upgrade could be ideal for you if you are a frequent user or a gamer who enjoys pushing their system to its limits. The Galaxy Flip 5 retains the Flip 4's 8GB of RAM, but upgrades it to LPDDR5X rather than LPDDR5. Even though you won't notice any difference in performance while using the phone, the battery life will improve marginally.
The Flip 5 will ship with the most recent version of OneUI (OneUI 5.1.1), which is built on Android 13. Nobody will feel like the Flip 5 is lacking in features thanks to Samsung's version of Android, which is quite sophisticated at this point and gives a ton of customization and options to play around with. The software experience when using the Flip 5 folded up has also been greatly enhanced thanks to the new cover screen. With Samsung's continued innovation in post-release software support, the Flip 5 is poised to receive numerous updates over the next few years and will be supported for only one more year than the Flip 4.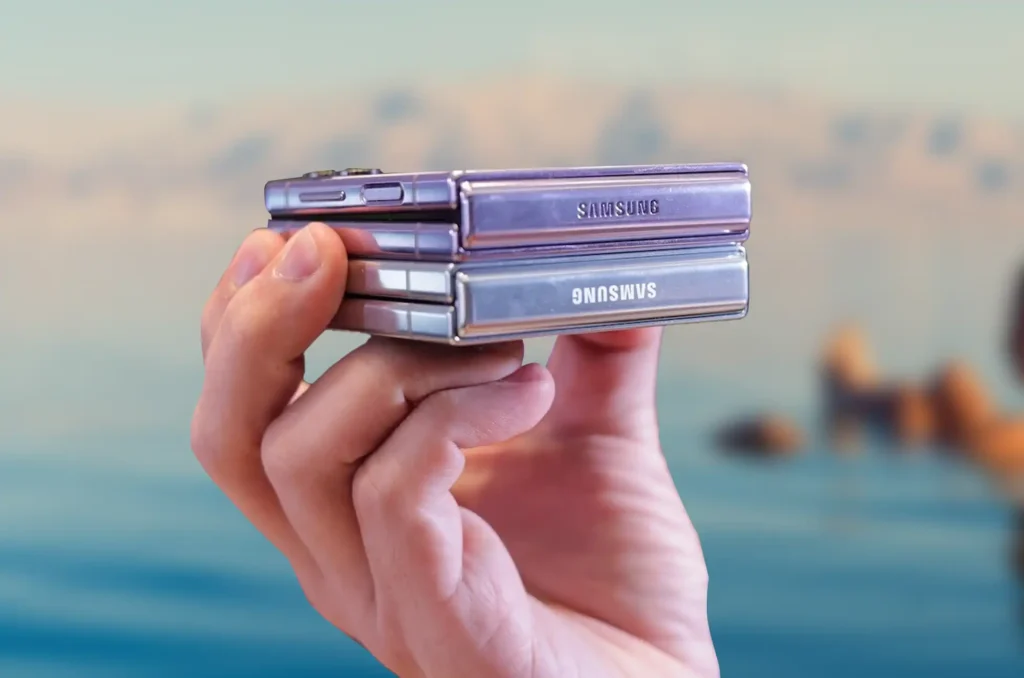 Galaxy Z Flip 4 vs Flip 5: Camera
The value of a good camera in a mobile device is common knowledge. Samsung's clamshell folding falls short in the camera department compared to the Galaxy Z Fold 5 due to the company's decision to use less high-end components in the lenses. However, that doesn't mean they can't capture decent photos; in fact, the Z Flip 4 enhanced the foldable's night photography capabilities over the Flip 3.
The Flip 5's primary sensor is the same 12MP f/1.8 wide-angle lens as in the previous generation's flagship model, the Flip 4. It's versatile and easy to use, making it a superb point-and-shoot choice; the ultra-wide angle is particularly well suited to landscape photography.
The Z Flip's cameras have traditionally succeeded when Samsung takes advantage of the device's innovative foldable form. Selfies taken with the cover screen as a viewfinder or by placing the phone on an angle are always more entertaining than those taken with a standard slab phone. The Galaxy Z Flip 5's improved and larger cover display should make using the phone even more of a pleasure and an asset.
The front-facing camera has also been updated, now boasting a 10 megapixel (MP) f/2.2 sensor rather than the previous f/2.4. This should improve your selfie-taking experience slightly by allowing more light in, hence increasing the quality of your photographs' natural bokeh. It's a little improvement, and probably won't be seen unless you're a photography nut.
Battery Life
Let's move on to the fuel that powers these gadgets: batteries. Since there aren't many external differences between the Galaxy Z Flip 5 and its predecessor, it shouldn't come as a surprise that it uses the same 3,700mAh battery. We found the Galaxy Z Flip 4's battery life to be rather satisfactory, lasting through a full day of moderate use in most cases. This will naturally decrease if you play games frequently throughout the day, although the Galaxy Flip 5 does have several features that could compensate for this.
The Z Flip 5's LPDDR5X RAM and Snapdragon 8 Gen 2 processor should be easier on the battery than the Flip 4's components. Battery life may not improve much even with the improved efficiency of the internals because the new 3.4-inch cover screen will consume more power than the little 1.9-inch screen on the Flip 4. I wouldn't expect much longer battery life than the Flip 4 provided, but we won't know for sure until we get our hands on it.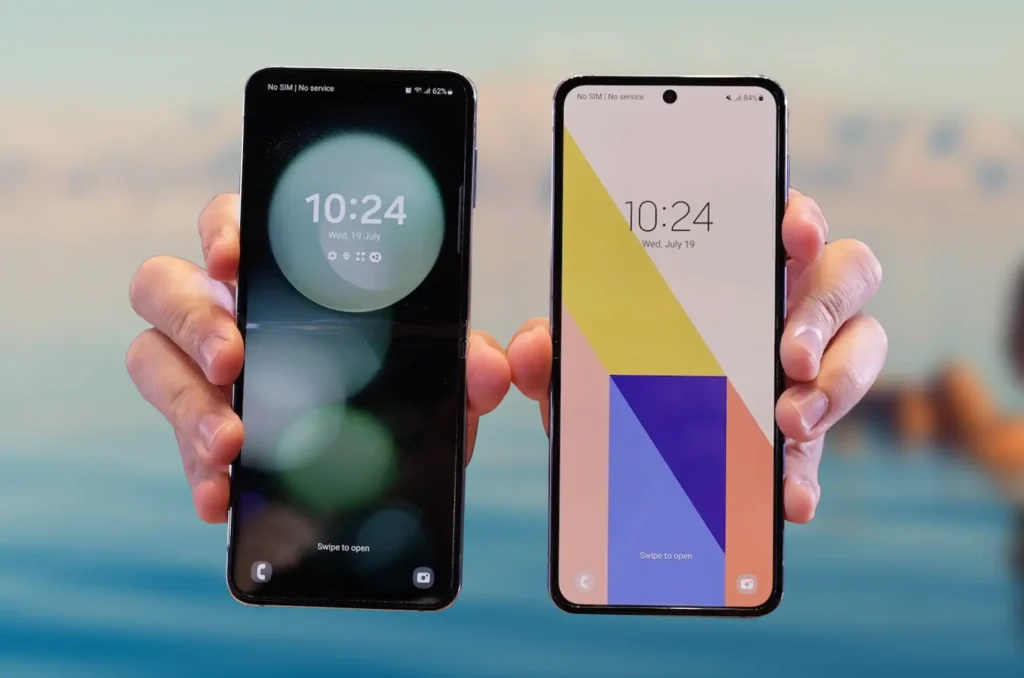 It will take roughly 30 minutes to charge the battery from zero to fifty percent through wired connection, which is disappointing given the 45W available on other Samsung flagships like the Galaxy S23+. Additionally, Wireless PowerShare is back with the Flip 5, so you can once again use the Flip 5's battery to charge your Samsung earphones or other compatible devices.
Price and Specs
We can't help but consider cost when making any choice. Despite substantial improvements over its predecessor, the new Samsung Galaxy Z Flip 5 is available at the same launch pricing. The Flip 5 will be available for purchase from Samsung and the three major U.S. carriers beginning at $1,000 on August 11 (pre-orders begin on July 26). The new model, like the Flip 4, will be accessible everywhere you typically purchase mobile devices and will support 5G on all of the main networks.
Conclusion
Is it safe to say that the Z Flip 5 is the next phone you need to upgrade to? If you own a previous generation Z Flip and are looking for an improvement in terms of screen size, processing power, camera quality, and battery life, the Z Flip 5 is an excellent choice. But if you're happy with your Z Flip 4 and don't need the newest features, it's still a great folding gadget, the Z Flip 4 is still a great option.
You can't go wrong with either the Z Flip 4 or the Z Flip 5; they're both excellent smartphones. Your preference and how you plan to use your phone will determine which is best.
All products, and company names, logos, and service marks (collectively the "Trademarks") displayed are registered® and/or unregistered trademarks™ of their respective owners. The authors of this web site are not sponsored by or affiliated with any of the third-party trade mark or third-party registered trade mark owners, and make no representations about them, their owners, their products or services.