Nov. 12
2023
MediaTek Dimensity 9300: Strong Competitor Against Snapdragon?
Tech News

In the world of mobile processors for 2024, Apple, Google, Qualcomm, and now MediaTek have showcased their flagship offerings. Among them, the MediaTek Dimensity 9300 stands out with its substantial enhancements in AI processing, graphics rendering, and photography capabilities. What truly sets it apart, however, is its innovative 4+4 CPU setup.
Deciphering the Dimensity 9300 CPU Configuration
The most notable feature of the Dimensity 9300 is its unconventional 4+4 CPU arrangement. This configuration comprises four high-powered Arm Cortex-X4 cores and four high-performance Cortex-A720 cores. Unlike conventional Android mobile chipsets the Dimensity 9300 does away with the lower-performing, energy-efficient Arm Cortex-A5XX series cores. Surprisingly, this decision may not have adverse effects on battery life.
The rationale behind this choice becomes apparent when examining Arm's A720 announcement, which indicates that the A720 consumes less power at its minimum state compared to the A520, despite the latter having a lower power/performance baseline. MediaTek supports this argument with data, claiming a 10% to 15% reduction in power consumption for typical tasks compared to the Dimensity 9200.
The Dimensity 9300 adopts a three-tiered CPU approach, featuring one larger Cortex-X4 core clocked at 3.25GHz and three Cortex-A720 cores running at 2.85GHz. MediaTek complements this CPU configuration with 8MB of L3 cache and 10MB of system cache, resulting in a 15% performance boost at the same power consumption or a 33% reduction in power consumption for the same level of performance compared to the Dimensity 9200.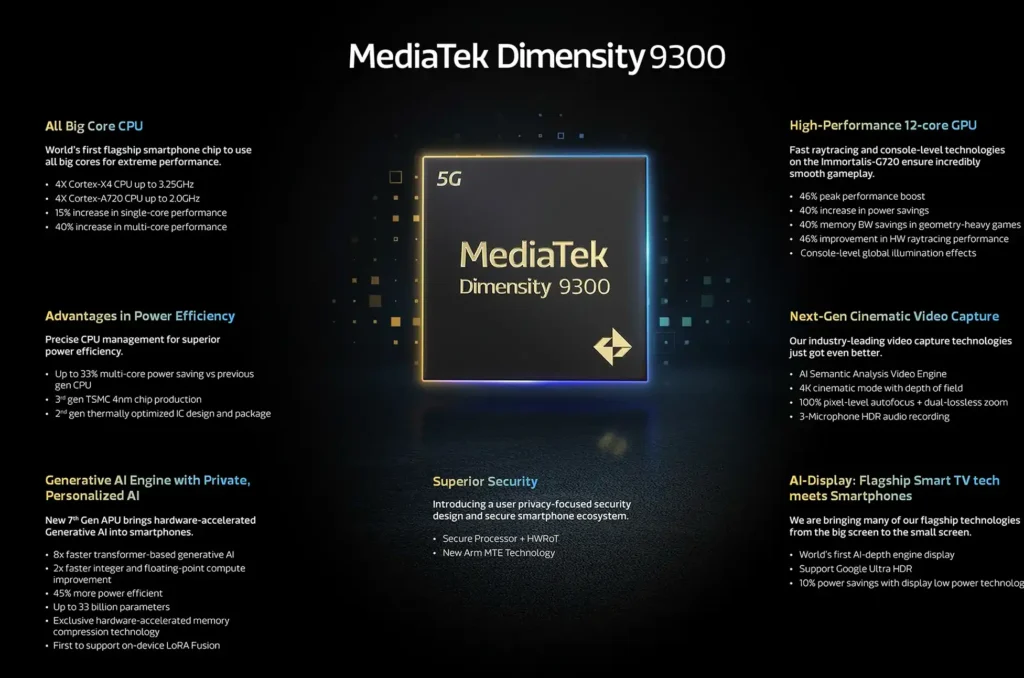 Engineered for Generative AI
The Dimensity 9300 showcases advanced AI capabilities with the APU 790, which offers double the integer and floating-point capabilities while consuming 45% less power. This upgraded AI processing is well-suited for various machine learning tasks, including voice recognition and image segmentation.
The chip also supports on-device generative AI with remarkable performance improvements, thanks to the APU 790. MediaTek addresses the challenge of memory footprint by introducing INT4 (A16W4) support and a dedicated hardware memory decompression mechanism, facilitating efficient execution of generative AI models on mobile devices.
Plenty of Other Dimensity 9300 Improvements
In addition to CPU and AI enhancements, the Dimensity 9300 offers several other improvements. Gamers can enjoy the latest Arm Immortalis-G720 GPU in a 12-core configuration, up to a 23% peak performance improvement. Power consumption is also reduced by 40%, ensuring longer gaming sessions on a single charge.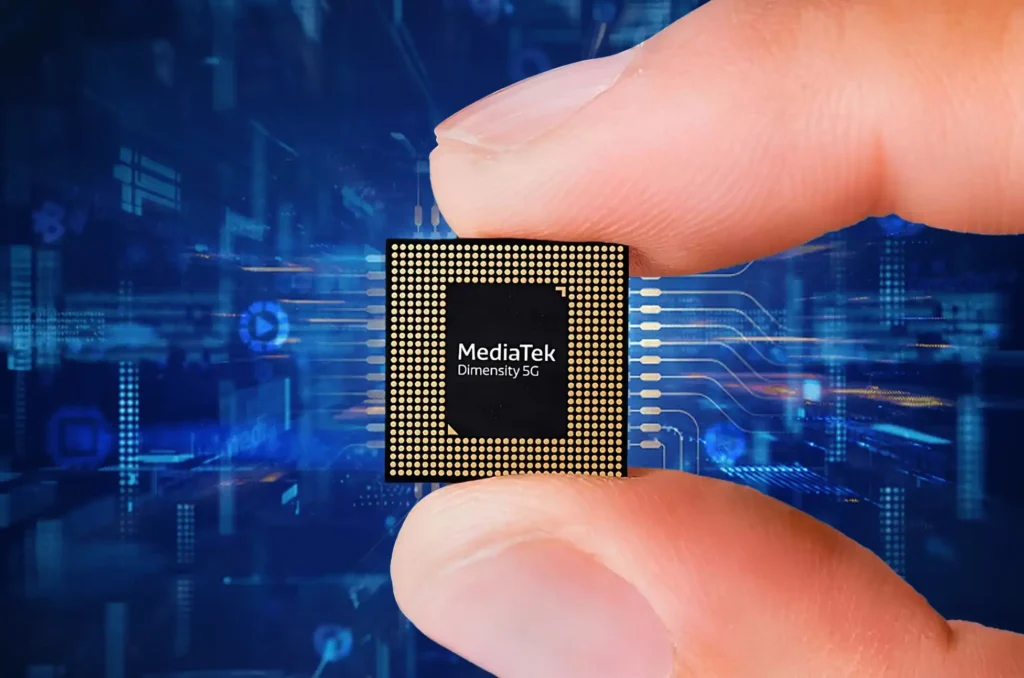 The GPU supports global illumination effects, memory bandwidth savings for geometry-heavy games, and 2x MSAA support for crisp graphics. Display options include WQHD panels with refresh rates up to 180Hz and support for Google's Ultra HDR display format.
Photography enthusiasts will appreciate MediaTek's Imagiq 990 ISP, which supports up to 16 object layers of segmentation, always-on HDR capture at 4K, and dual-lossless zoom. Security is enhanced with a new secure boot chip, isolated secure computing environment, and Armv9's Memory Tagging Extension.
Anticipating Dimensity 9300-Powered Smartphones
While the US market is firmly held by Apple and Samsung, MediaTek's Dimensity 9300 is expected to drive smartphones from various Chinese brands that will enter global markets in the upcoming months and throughout 2024.
Conclusion
The MediaTek Dimensity 9300 represents a groundbreaking shift in mobile processing. Its unique CPU setup, AI capabilities, and gaming performance redefine smartphone potential. While it may not dominate the US market, global adoption by innovative Chinese brands promises a wave of cutting-edge devices. In 2024, the Dimensity 9300 exemplifies the relentless innovation shaping the mobile industry.
All products, and company names, logos, and service marks (collectively the "Trademarks") displayed are registered® and/or unregistered trademarks™ of their respective owners. The authors of this web site are not sponsored by or affiliated with any of the third-party trade mark or third-party registered trade mark owners, and make no representations about them, their owners, their products or services.