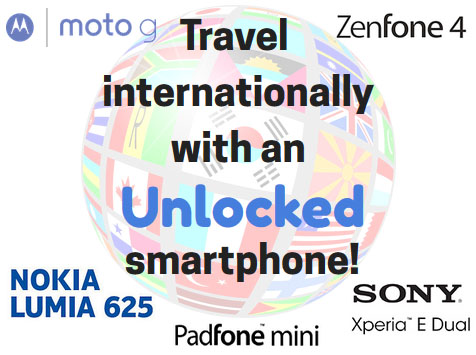 When it comes to mobile phones, most people are choosing to hop on the smartphone bandwagon.  Not only do these phones offer an assortment of features and application capabilities, but they also come in many shapes and sizes.  And best of all, some of them are unlocked, meaning they can be used on various networks.  Most importantly, some of them can be used overseas, making them perfect for those of you who travel internationally or have loved ones who are in the military.
Here's a quick look at five of the most popular unlocked phones that can be used internationally.  Do keep in mind, though, that once you land in a different country, you'll need to purchase a new SIM card for the carrier you wish to use; this allows you to make international calls without going bankrupt.
Asus ZenFone 4
The ZenFone 4 is an incredibly affordable smartphone.  If you want a larger display screen, opt for the ZenPhone 5.  The ZenFone comes with several attractive features, including:
5-megapixel camera
Intel Atom processor
Android 4.3
1GB of RAM
Moto G
If you liked the Moto X, then you'll love the Moto G.  Available without a contract and for only $179, the smartphone features Android 4.4 KitKat, great performance, and specifically directed toward people traveling internationally, it is available with GSM.
Nokia Lumia 625
If you're wanting to travel with a Windows phone, then the Nokia Lumia 625 is an excellent option that you should take advantage of.  It has 512MB of RAM, a 4.7-inch display, a 2,000mAh battery and much more.  Although this phone regularly retails for nearly $300, you can usually find it online for much cheaper.
Asus PadFone Mini
Wanting a smartphone that doubles as a tablet?  If so, you'll love the PadFone Mini.  It comes out of the box with Android 4.3 as well as 1GB of RAM.  It's 8-megapixel camera takes amazing pictures and captures clear video.  When it comes to extreme versatility for international travel, this is the phone you'll want to invest in.
Sony Xperia E Dual
Although this phone doesn't come with a microSD card slot, it still features a rear-facing camera, 4GB of memory, a big battery life and plenty of compatible apps.  You can usually find this phone for well under $100, and it works well with just about any international carrier.
If you would like more information about unlocking your cell phone to use while traveling abroad, contact UnlockBase today.