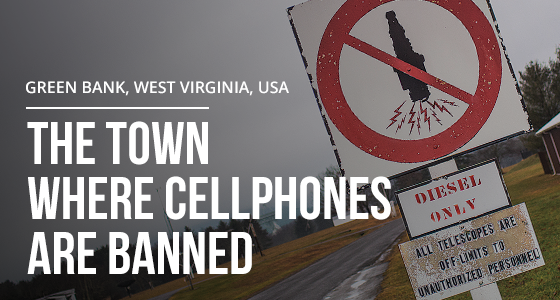 If you simply can't imagine a moment, let alone a life without cellphones or your favorite electronic devices, try moving to Green Bank, West Virginia, USA, where no electronics of any kind are permitted. This isn't down to any moral or overbearing nanny state issues, it's because Green Bank happens to be home to the world's largest steerable satellite, and it requires absolute radio silence in order to be able to do its job. This means no high-speed broadband, no cellphones, and no radio interference of any kind is permitted. Even TV is completely banned.
To enable the telescope to operate without disturbances and receive signals from millions of miles out in space, the town, with a population of just 149 residents, has completely outlawed the use of electronic transmitting devices and there's even a WiFi cop whose sole job is to patrol the streets seeking out errant wireless signal abusers.
Only first responders for medical emergencies are allowed to use radios and the town has but one pay phone. Residents still have access to the internet, but it operates only at the exasperating pace that dial-up used to offer some 20 years ago.
Of course no electronics can make modern life difficult for the residents of the town, but some see it as a blessed relief from the round the clock intrusiveness of modern day messaging such as Tweets, Facebook postings, texts, badly taken Whatsapp selfies and all the other WiFi social media junk that high speed broadband has made possible and ubiquitous. For this reason, some see a move to Green Bank as a positive, life reaffirming step, which is why, starting from the mid-2000s, many 21st century escapees have begun flocking to Green Bank.
The peace and quiet of no WiFi noise and stress is deemed as beneficial, and some of the newer residents who have arrived in recent years are there because they claim to suffer from Electromagnetic Hypersensitivity (EHS), a disease or condition which is not yet recognized by the medical community, but has been featured in the hit TV show 'Better Call Saul' a prequel to the hugely popular AMC show 'Breaking Bad'.
At least the residents of Green Bank West Virginia are making an informed choice about their no WiFi world. Unfortunately for some, the digital divide is a daily source of frustration. No place more so than in the Philippines, which has the unwanted honor of being the country with the worst internet connection in the world.
Officially the Philippines is the country with the slowest connection and poorest coverage of LTE in the world, a phone application that measures internet speed. According to the "State of the LTE" by OpenSignal Inc., the Philippines has the slowest LTE or Long Term Evolution connection of the 16 countries surveyed, with 5.3 Mbps (megabits per second), only next to the US with 6.5 Mpbs.
Conversely, Asia is also home to the country with the fastest broadband in the world. South Korea has the world's best LTE coverage at 91%. Second place goes to Tele2 Sweden. LTE or Long Term Evolution is designed to be 10 times the speed of its 3G counterparts for mobile devices.
It looks like there may not be too much demand for our remote cellphone unlock services in Green Bank, Virginia, but in every other part of the world, achieving the best broadband speed at the best rate is a never ending quest. For this reason, UnlockBase offers the largest database of cellphone providers and cellphones on the net. With constant new additions and updates as new models emerge, even brand new phones can be unlocked quickly, reliably and cost efficiently usually in just a few minutes. So if you're not residing in Green Bank, why not give us a try.