Mar. 23
2011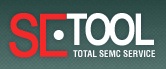 SeTool dongle owner can now Unlock all the SonyEricsson X10, E10, E15, M1, U20, W100, W150  for 10 SeTool Credits with DIRECT UNLOCK 24/7 !
Minimum Order Quantity is 30 Credits SeTool for 65 EUR*
You can order username & password for SeTool from the "Cable Unlock" section of your UnlockBase account and selecting the tool "SE-Tool Server (30 LOG Account)". As we always have stock for this service you'll always receive your account instantly 24/7 even when our team is sleeping !
* All our price are negotiable if you find cheaper with one of our competitor